Ballerina Confidential
Posted by Deirdre | Filed under Blog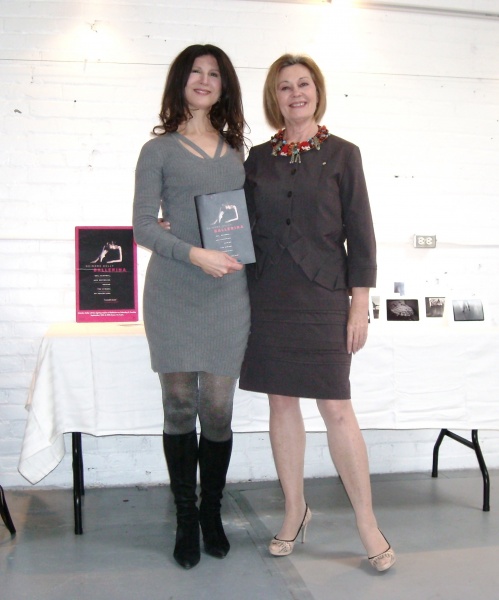 Vanessa Harwood is a national treasure.
The first student to join Canada's National Ballet School — her British-born mother had been a dancer in her native England and so knew more than most Canadian mothers in the 1950s to enroll her daughter in a dance school — she eventually became one of the leading lights of the National Ballet of Canada.
During her almost 20 years with the Toronto-based company, the ballerina known as Super Swan for commanding performances of Odette-Odile in Swan Lake was famously photographed by the great André Kertesz and partnered by Rudolf Nureyev and Peter Schaufuss, among other dance legends.
She told the audience gathered to hear her in conversation with me on the afternoon of March 24 at Toronto's Extension Room, a ballet workout studio founded by the Quinte Ballet trained Jennifer Nichols, a dancer with Opera Atelier, that Schaufuss was a ballet brat who once threatened to topple her off her pointe shoes when he pulled the arm he was supposed to be supporting back, well past her shoulder, throwing her off-balance.
As wonderful a public speaker as she was a dancer, and still exhibiting the spunk that made her performances as Coppelia sparkle with mischievous wit, the dancer made an Officer of the Order of Canada in 1984 stood up from  her stool to re-enact, in high heels this time, the near on-stage disaster. She showed how she pulled with all her might her body forward again, as if she were engaged in a tug-of-war with the Danish-born Schaufuss instead of dancing with him, sharply putting herself upright.
"It was the only time in my career that I wanted to do this," she said, miming a slap to the face of her former partner. "If I had done that all the ballerinas around the world would have sent me flowers."
The afternoon was filled with juicy anecdotes like this, each illustrating the often unglamorous reality of ballet behind the scenes, a conversation jump-started by a discussion of my latest book, Ballerina: Sex, Scandal and Suffering Behind the Symbol of Perfection, before a paying audience.
Vanessa doesn't figure largely in my book — I quote her just once — but she did endorse it, supplying a quote for the back cover. She told me she could identify with many of the themes: tyrannical artistic directors, eating disorders, and a career that when it ends often causes depression. "It's a loss of identity," she said. "I was always Vanessa Harwood the ballerina, then I had to discover Vanessa Harwood the person."
I knew some of her story going into the event, but she still managed to surprise me.
Along with other shocked members  of the audience, I listened in outrage as she told of being ostracized by her home company for having been one of the few who lent public support to beleaguered ballerina Kimberly Glasco, fired without cause in 1998. Vanessa said that she has since paid the price.
When the company celebrated its 50th anniversary season in 2001, she wasn't mentioned in the souvenir program and chalked it up to it coming so soon on the heels of the Glasco fiasco, as it was known in the press.
But when in 2011 the company celebrated its 60th anniversary season, and again she was omitted, she wrote a letter to the administration asking why.
The answer she received was that the National Ballet has too many alumni, and that the company can't be expected to include everyone.
But she's not everyone. She's Super Swan!
Still, as she said so herself, the culture of silence is so strong in the ballet world that ballerinas who dare speak out often get punished. I document this phenomenon in my book, citing international, contemporary day examples.
Undaunted, after retiring from dancing when in her 40s, she literally went looking for the voice long denied her. She took voice classes and then joined a choir, even though, as she said, she's a lousy singer.
Her moment of truth came when her voice teacher asked her to sing a capella before the class. She chose What I Did For Love from A Chorus Line.
"That was it," she said. "I had done it all for love."
And we're so very glad she did.
Search