Sound and Silhouette
Posted by Deirdre | Filed under Blog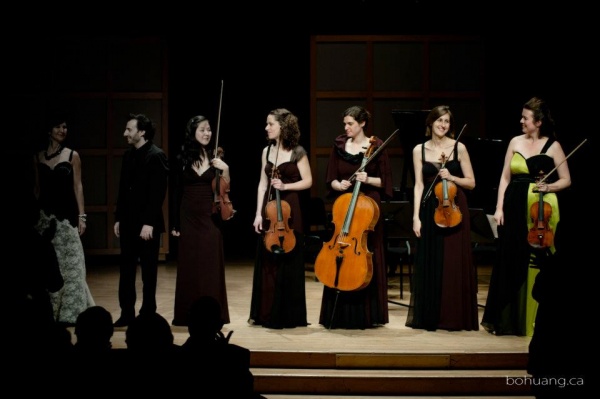 I had the most amazing experience yesterday, hosting Fashionista: Fashion as Art, a classical music concert which Amici Ensemble presented at Glenn Gould Studio in association with Cecilia Quartet, violinist Lara St John and accordionist Joseph Petric and the Toronto fashion designer, Rosemarie Umetsu who dressed me and three statuesque creatures from Ford Models for the occasion. My thanks go out to Elizabeth Bowman, executive director of Amici Ensemble, for involving me in such an exquisite affair.
The event was a study in artistic contrasts: music on one hand, and fashion on the other as represented by a series of show-stopping gowns, all by Rosemarie Umetsu. In advance of the three chamber pieces selected for the program — one each by the austere Russian composer Galina Ustvolskaya, the French Romantic/Impressionist Amedee Ernest Chausson and Canadian Alice Ho whose Breath of Fire was a world premiere — models strutted out on to the stage in dresses whose colours, shapes, textures and fluidity of line were curated as having a visual relationship to their accompanying pieces of music.  The idea was to show how the two art forms inspire and relate to each other.
Largely, my job consisted in drawing parallels between the whimsy of fashion with the gravitas of classical music. I began by arguing in favour of fashion as art, which I personally had experienced as a fashion reporter covering the shows in Paris. There, fashion is an artistic pursuit, with designers draping fabrics and wielding colour and 3-D embellishments much like sculptors or painters: Think Issey Miyake, the late Alexander McQueen, or the Dutch design duo, Viktor & Rolf, for instance.
But then drawing on the excellent research done by Mary E. Davis in her 2006 book, Classical Chic: Music, Fashion & Modernism, I showed that the relationship between fashion and classical music as presented by The Amici Ensemble has historical precedents. I cited the example of Paris couturier Paul Poiret who in 1912, now a century ago, was among the first fashion designers to host classical music concerts in his Paris salon, a tradition upheld today by Rosemarie Umestu whose Atelier Rosemarie Umetsu at 198a Davenport Rd. in Toronto frequently plays host to classical musical concerts among the racks of gowns.
When Poiret, one of the most celebrated fashion designers of his day, began associating himself with classical music, society magazines like Vanity Fair and Vogue took note. Classical music gave fashion a sense of prestige while fashion lent classical music a sense of glamour and popularity. It was only a matter of time until impresarios like Sergei Diaghilev started seeking out their own associations with fashion designers. It was the new chic thing to do.
Soon after Poiret launched his fashion-and-music evenings, Diaghilev began seeking out couturiers to design for his Ballets Russes. It was because of their association with classical music, theatre and ballet that many couturiers began to enjoy world-wide fame. Among them was Coco Chanel who torpedoed to success soon after she allowed one her hats to appear in 1911 French play. By 1924, her fame had grown and Diaghilev asked her to work alongside the great composer, Igor Stravinsky, to help with the creation of Le Train Bleu which was choreographed by Bronislava Nijinska from a libretto by Jean Cocteau.
This marriage between cloth and classical music actually begat a real-life affair between these two icons of 20th century art and fashion. The 2009 film, Coco and Igor, shows the relationship to have been intense, stormy, highly sexualized —  adjectives that could just as easily be applied to yesterday's Amici Ensemble concert. This is what happens when you pair a side-slit gown with a pointy bow and a pounding piano: sparks fly.
I couldn't get into all this detail while standing at the podium before  packed house at the Glenn Gould Studio. I had only minutes to convey the joint passion I feel for fashion and art, especially music; judging from the standing ovation the show received at the end, I think I did help, in my small way, to show that they are intrinsically linked: Both offer transformative experiences.
I personally felt fashion's transforming powers while preparing back-stage in the crowded dressing room. Rosemarie Umetsu had lent me a stunning black-and-ivory gown for the event; accessories designer and stylist Cameron Alexander tied around my neck a stunning amethyst necklace that heightened the feeling of glamour jumpstarted by this one-of-a-kind dress. Ivy Lam and her team then did my hair and makeup, turning me from an overstarched newspaper woman into the belle of the ball, false eyelashes and all. I felt special, like a work of art.
And then, in the wings, listening to Lara St. John with pianist Serouj Kradjian and members of the Cecilia Quartet sail across the emotional waves of Chausson's mellifluous Concerto in D, I was again transported deep inside a wellspring of emotion. I instinctively moved to this music, my lace and satin skirts swaying to the rhythm. In this moment, music and fashion truly were as one, united by me, a woman in a beautiful dress listening to beautiful music, stirred equally by both.
Search