Reading at the Library
Posted by Deirdre | Filed under Blog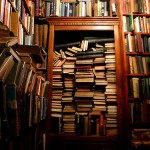 I've spent many hours reading at the library. I'd say that reading in the library has very much informed the person I am today. The habit was formed early: Winnie the Pooh and Dr. Seuss followed by fairy tales then Greek myths and Alice's Adventures in Wonderland. In high school, the books were more Oscar Wilde and The Autobiography of Alice B. Toklas.
Those turbulent years of my teenage life were often spent at a library carrel, where I'd anchor myself after school to study and then study again: Books being my salvation, my escape route from all that tormented me at the time, my home life in particular. The library felt often like my true home, and as I'd wander the aisles after-dark, I'd discover new lives and new adventures, if not new cuisines in exotic cookbooks, all lined up of the shelves, inviting me in.
When I got to university I was already well-practiced in being a library habitue, which is likely why didn't flounder in first year as many of my peers did. All this goes to say that I didn't have much of a social life. Books were my main companions. At one point I realized that it wasn't a good way to be. I tried branching out, meaning going to the library less, and trying out the campus pubs more. But at the time, I found real life less safe and reassuring (and inspiring) than my books at the library, so back I went, into my solitude.
In Paris, I even went so far as to live in a library: Shakespeare & Co., on the Left Bank, opposite Notre Dame, where Hemingway and Fitzgerald and Joyce used to go to read and borrow their books. I lived upstairs, sleeping among books by authors whose surnames began with the letter B. I write about that experience in my book, Paris Times Eight. Which brings me back to libraries again.
Recently, as a result of my book, I was a guest author as part of the Keep Toronto Reading Festival sponsored by the Toronto Public Library. I read earlier this month at the TPL's Morningside branch, before an attentive crowd. All were library regulars and some arrived late to the reading because they had been busy borrowing books of their own.
Librarian Sheila Yates had decorated the meeting room to resemble a french cafe. It was beautiful, touching and charming.
I read from the chapter detailing my intimate encounter with the late, great dancer Rudolf Nureyev, and also from an earlier one in which I described my first impressions of the city that would eventually inform me, much the way libraries have: From the inside out, inspiring in me a desire for learning, for reaching after knowledge and wisdom and beauty, such as are often described in books.
Search