My Up Do Might Have Been a Big Don't (But Sue Me, It's Fashion Week)
Posted by Deirdre | Filed under Blog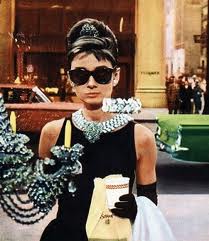 I was having a bad hair day at LG Fashion Week in Toronto yesterday where all the week the graft has been flowing. I got a nifty notebook from the people at Korhani, the rug makers who showed their wares on the runway yesterday, which was a lot more exciting than you'd think, pure performance art: Gotta make carpets exciting somehow. I also got this sparkly key chain in the shape of a stiletto that I promptly put back in its box.
But for me the most exciting freebie of all is the hair and make-up applications by the team at L'Oreal. They are set up centre floor at the Heritage Building inside Exhibition Place where the shows are being presented this week, with all their tools of the trade surrounding them — curling irons, coloured pots of powder, foundation in every hue imaginable. Yesterday I took advantage of all the gratis primping.
I let make-up artist Julia Hofer make my eyes look bigger with a deft application of liner and gold shimmer on my lids: "Never use dark shadows," she admonished me with her French-acccented English. "They make your eyes look small."
After my face was done,  I headed in the direction of the hair team. When the shows are on all night, following a full day at work and hours in between shutting the kids between home and school and their myriad after-4 lessons, I haven't had a inute to wash my hair,. I twas looking pretty lank when I first sat down on the white leather stool manned by the hairdresser-known-as-Stephen, he of the arm tattoos and a big boar bristle brush. He squealed when he looked at my hair. But not from horror. "Oh, it's so perfect for an up do," he said, underscroing what I've always been told, that dirty hair is better for working with than clean: it bends, it mpouilds, it doesn't lose its shape. "How much time have I got?"
 The line-up was already forming in front of me for the aforementioned Korhani show, featuring jewels by Montreal's Anzie family. But I knew I had a reserved front row seat and so didn't need to hurry. I told him five minutes.
'That's all I need," he said, and immediately commenced back-combing my greasy locks into a halo of brunette potenatial at the top of my head. 
He then quickly tugged and twisted and pinned my hair into an Audrey Hepburn-esque side-part, heavily hair sprayed beehive. His work done, he stood me up out of the chair, handed me a mirror and told me to feast my eyes: I was transformed.
But the image looking back at me seemed uncannily familiar. That's it. I looked like my mother, circa 1968, in the days when she religiously used to go Saturday mornings to the hairdresser to get her hair backcombed and pinned into a helmet of hair that would last her the week.
I remember all too well how she used to sleep on it, gingerly and perhaps not all that well, considering hiow she used to yell at my brother and me, all the time. 
Later that night, I got several compliments in the darkness of the catwalk by some fellow members of the media. I think I was probably quite striking looking, in a mad, theatrical, what-the-hell-is-she-doing kind of way. I knew they were just trying to be nice.
Stephen had he told me to take it all out when I got home. He said I was to come back to him so he could do my hair again, foe each day remaining in LG Fashion Week. 
But I slept on my do last night, thinking of my mother but also of what might happen if  I took out all those bobby pins: My hair would look shocked, as if I had been electrocuted. It was late. I didn't have time to wash it out. 
So I lay on on those pins, penance-like, waking up several times in the night when I felt them poking into the skin on my scalp.
In the morning, I did what I remember what my mother used to do: I got the pointy end of a comb and smoothed the strays back into place, pinning them down with a few more pins I had of my own.
I am at my desk right now, yawning, exhausted from my night of beauty-interrupted sleep.
But my hair's awake, fully on: I feel every inch my mother's daughter.
Search