Miss O'Dell
Posted by Deirdre | Filed under Blog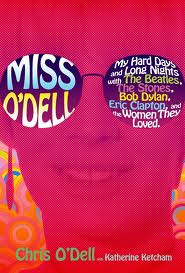 I am just about finished Chris O'Dell's autobiography,
Miss O'Dell
, documenting her hard days and long nights with The Beatles, The Rolling Stones, Bob Dylan and her sack of drugs. She was a young  American hired by Beatles PR man Derek Taylor to work at Apple when the Beatles' notorious business entity was just launching in London.
She ends up becoming close pals with George Harrison (he writes a song about her as does her erstwhile lover, Leon Russell) and a little too close with Ringo, if you know what I mean.
Her guileless, first-hand observations of my idols (still a Beatlemaniac, after all these years) are thrilling beyond words.
She is an insider who talks about George in his kitchen making tea and in his garden planting flowers.
She also writes of the so-called Quiet One as being supremely moody ( a classic Pisces) who could be fun and happy, sarcastic and mean, karmically-focused and out-of-touch with reality (eventually alienating his own wife, Patti Boyd, who goes on to marry George's best friend, Eric Clapton –his song, Layla, is about her) depending on which way the incense was burning on a given day.
O'Dell confirms what I've long suspected: that George is more responsible for the break-up of The Beatles than most people usually let on.
He was known to have held grudges, and it's well-documented how he long resented Paul McCartney, feeling the older Beatle constantly talked down at him, and held him back. (Read Howard Sounes' new Macca bio to see how unfair a portrait that is).
O'Dell doesn't tread into this murky territory of bad blood among the Beatles, with one glaring exception: Her eye-witness account of George's love affair with Maureen Starkey, Ringo's wife, in George's  own Friar Park, and right under wife, Patti's nose!
Maureen was still married to Ringo at the time and one evening George blithely announces to his old pal at the dinner table, in front of everyone, "Ringo, I am in love with your wife."
More bizarre, perhaps, is Ringo's response:  "Better you than someone we don't know."
That scene got me thinking.
George, always on about sharing the love, not only took the directive far too literally, he was callous in how he treated those who actually did love him. Imagine doing that to Ringo! It is why the Starkey's marriage broke up. Also imagine Ringo eventually forgiving him!
There seems so little is written about George from this angle;  O'Dell's book makes me want to write his biography.
Her cast of famous dysfunctional characters aside (read the chapter on Crosby, Stills, Nash & Young and weep at how loathsome a gang of guys they were), the charm of her book belongs to O'Dell, herself.
Throughout, she is essentially a small-town girl nobody living the dreams of millions. Even she says so: "I wasn't famous. I wasn't even a little famous. But I was there."  In that way, she like most of us: Fans who'd likely have given anything to be at the centre of the rock and roll circus that was the mid 19602 and 1970s.
It's easy to relate to her when she says, "I just stood in front of Paul McCartney with a stupid smile frozen on my face," in describing the first time the uber Beatle walked into Apple when she was there applying for a job.
I'm just at the point in the book where she's just finished tour managing Santana (she wasn't a groupie as some have said of her but was indeed on the rock and roll payroll, though she infamously did get around: Dylan and hunky two-timing playwright Sam Shepherd, included) and she's stopped the drugs but not the drink.
I peaked at some of the  photos and know there's a happy ending, as she now has a grown son of whom she's proud. She's today a rehab counsellor, living back in the USA.
I recommend this book, highly, and it's the next best thing to having been there duringwhat was definitely a mind-blowing time.
Search