Ports of call.
Posted by Deirdre | Filed under Blog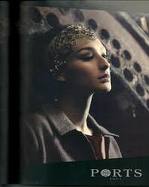 Well, the snow is falling heavily where I am, and the coloured lights are strung outside on the houses and the trees. It's beginning to look a lot like Christmas. I plan to write more on the topic later. But for now, I wanted to share a wonderful seasonal gift that has just come my way from fashion label, Ports International:  The New York brand is throwing a holiday party at its stylish Bloor Street West store in Toronto on December 10, with me reading from my book, Paris Times Eight. The Ports 1961 champagne soiree is a cinq a sept, as they say in Paris, running from 5pm until 7pm. Please tell your friends, and come share a glass.  
I haven't yet decided what chapter of my Paris-inspired memoir I will read from as yet. At least two are set at Christmastime: one tres triste (Miss Lonelyhearts) and one light-filled and heartwarming (Mother).  I love reading out loud, love engaging with my audience, and so I promise whatever I present will be worth the trek in heels in snow. I am grateful to Ports 1961's Julie Enfield for creating this party around me.  I even get to dress up in Ports for the occasion. Talk about tinsel on the tree.
Search