Hate Wearing A Bathing Suit? You're Not Alone.
Posted by Deirdre | Filed under Blog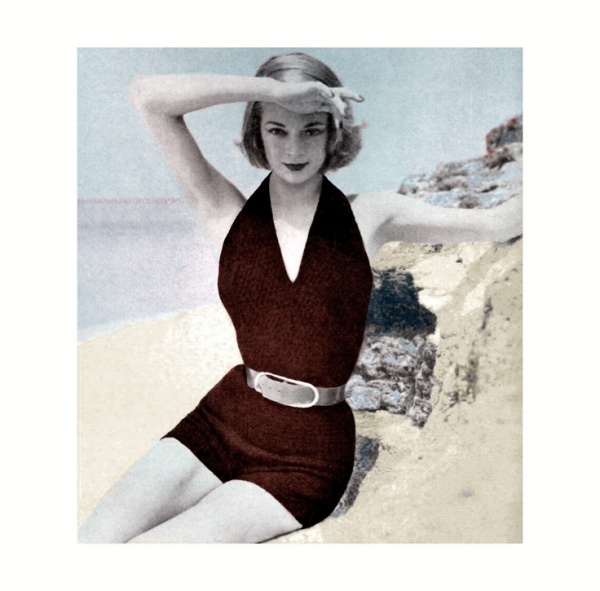 Once I had the luck of vacationing on the tony Caribbean island of St. Barth's. It is a très French outpost, so vacationers can go as bare as they dare. But the most stylish woman on the sand was not in an itsy-bitsy bikini. Bianca Jagger, international partier and socialite, was covered head to stylish toe.
Her lower half was clad in black footless spandex pants. Her upper half was shielded by a batik-patterned sarong tied halter-style around the throat so that it billowed suggestively as she walked. On her head was a big floppy straw hat that made the large dark glasses seem really beside the point.
What woman can't relate? Okay, not to the superstar bit. But to the fact that as we get older bathing suits become the bete noir of female existence. Who honestly looks good in one after the age of 22? Cellulite is the curse of even the most svelte. Add childbearing to the mix and there are sags and stretch marks that most women would prefer to keep a private matter.
The women's magazines encourage us to put on brave face, and annually trot out swimsuit issues that offer tips on finding the perfect bikini even if you're big, booby and bulging at the sides. Like, as if.
But we can adopt Bianca's attitude and say, screw it. No more wiggling into French-cut bottoms that are supposed to make our legs look long. No more searching for industrial underwire. Instead, this summer, forget about the bathing suit altogether.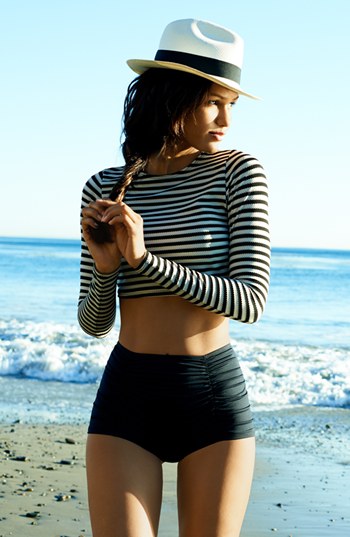 Grace Zeppilli, the Toronto-based vice president of Hugo Boss Woman, layers her bathing suit with a dress that she says is like a long tank top with buttons down the front. She tends to wear it open, to give a peek of the suit beneath and not much else.
"It's about living the beach scene," Zeppilli says. "You know, a little shopping in the morning, a light lunch, then an afternoon at the beach vegetating and reading books. Afterwards, you walk home in your big hat, your great sunglasses and your sarong — your lifesaver — and you feel good." Summer fashion 2002 is custom-made for the bathing suit phobic. There are thigh-skimming peasant shirts galore; batik-patterned sarongs, fringe on belts and hemlines that looks like veils of smoke on the body — obscuring but not entirely concealing the feminine form beneath.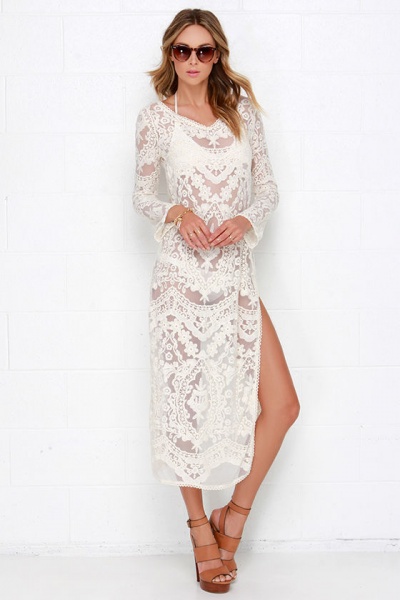 Fashion's present love affair with hippie chic has heralded the return of crochet, macramé and lace, updated with stretch to make it truly body-flattering. These materials are making it into dresses and tunics that can be worn over bathing suits for a look of seductive peekaboo. Sarongs, bolero tops and blousons emphasize the new body of the season, which is voluptuously, not athletically, feminine.
In response to consumer demand for more coverage, Montreal-based Maillots Baltex Inc., which sells seven million suits annually to customers in Canada and the United States, has this season produced an accessories line of cover-ups in the form of pareos and pyjama tops. Steven Balit, vice-president of marketing, says today's women are more conscious of their bodies and their health "and so we've answered the demand by including in our swimwear line cover-ups that can be worn with a bathing suit or with other clothes.
"The whole trend towards shirring has resulted in the industry adopting fabrics like jersey and georgette and polyester blends that drape well. It's also part of the gypsy look, popular right now. We find that women take our pieces and mix them up and not always with a bathing suit."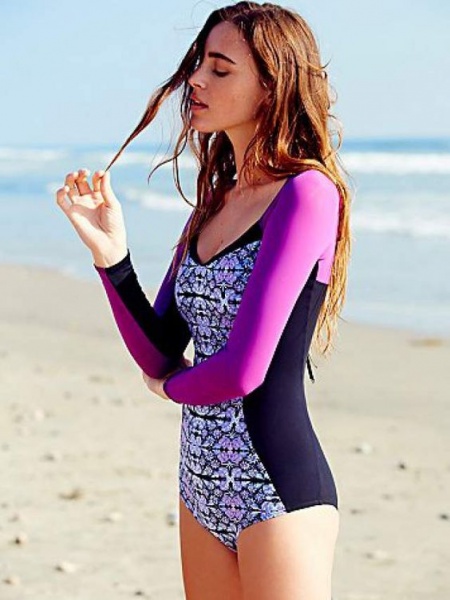 Blatant skimpiness is no longer the order of the day anyway, says Dr. Lisa Kellett, director of cosmetic laser dermatology at Toronto's SpaMedica.
"Canadians are becoming more aware of the risks of revealing their skin in the summertime and the need for sun protection, because exposure to the sun is related to an increased chance of skin cancer and also photo-aging of the skin."
Designers are heeding the call by creating summer looks that artfully conceal, without detracting from a woman's need to feel flirty as the sun shines.
Dolce & Gabbana's floral-applique silk shifts, Jean Paul Gaultier's long lacy tunics over pants, Tom Ford for Yves Saint Laurent's thigh-slit muumuu, Missoni's silk-ribbon tunic, Etro's wispy chiffon dresses, Ungaro's kimono cover-ups and Iceberg's maxi-print floral beach coats are part of the season's fascination with the lightness of being (without maximum exposure).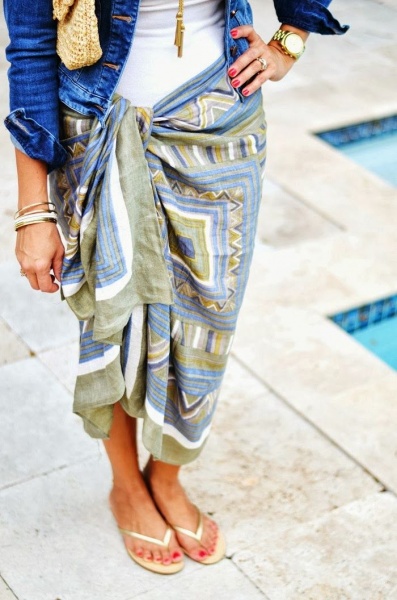 "We as dermatologists love to see long-sleeved flowing attire in vogue," says Ian Landell, director of the Landell Institute of Cosmetic Dermatology in St. John's, and a spokesman for the Ombrelle sunscreen line. "It makes our lives easier because we don't have to harp so much to our patients to keep out of the sun."
Terry towelling, a popular retro revival trend, is back in the form of cover-ups that evoke Grace Kelly's French Riviera. Chloe's first swimwear line, designed by Phoebe Philo, includes terry towelling cover-ups and matching beach towels that take you from beach to bar without needing to shower in between. It Girls Madonna, Jennifer Lopez and Nelly Furtado have been spotted in terry shorts and drawstring pants, most notably by hot label Juicy Couture.
Indeed, the bathing suit is becoming irrelevent this season as a fashion statement.
Take a cue from Canadian screen siren Arsinée Khanjian: The key to chic this summer is whimsical layering. The Toronto-based actress and mother of an eight-year old son recently told The Globe that her swimsuit style secret is to cover it up with something more beguiling:
"Three or four years ago, I went to Marks and Spencer and bought five black one-piece bathing suits. I wear one under a tunic that is made out of the same fabric to swim. It feels very sensual. The Twenties would have been a wonderful time for me."
For her part, Zeppilli avoids the water altogether.
"Swimming fits nowhere in the equation. Have you ever seen a European woman get her hair wet? Especially not after all the time she has spent getting herself done for the day."
Get the look:
A hip sun-and-sand wardrobe is easy to pull off this summer. Here's how.
1. Thigh-skimming djeballas, tie-dyed, psychedelia-swirled and embellished with beads or sequins are the anti-swimmer's top choice.
2. Sarongs are your lifesaver. Wear them to the thigh or ankle with a bandeau top or plunging neckline. Or get a long fringed scarf to wear around your hips over footless lycra pants.
3. Jewellery brings sparkle to a summer day. Go for ultimate glitz with gold like this Robert Lee Morris cuff, about $5,300, at Birks.
4. Hats are de rigueur to block out the sun. Look for large brims in coral, lime or fuschia.
5. Flats are the season's biggest story. Look for sandals with soles as thick as a stick of gum in leather with metallic hardware or beading.
Search