When Fashion is Forever: David Livingstone Remembered
Posted by Deirdre | Filed under Blog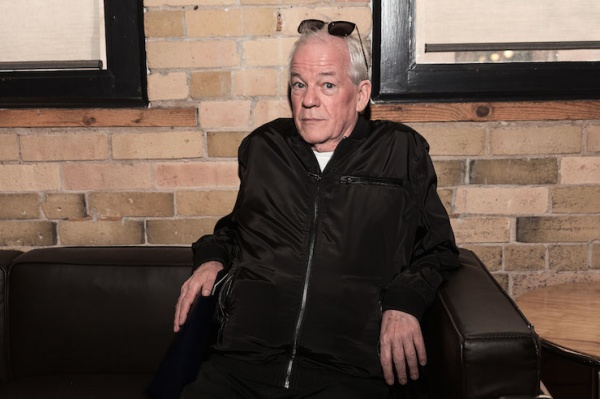 My former Globe and Mail colleague, fashion journalist David Livingstone, has passed away but not without leaving a closetful of memories and trunks full of words that will live on well after his untimely demise in Toronto at the age of 69. A person who made his living thinking about and dissecting images, David has left behind some potent imagery of his own.
I distinctly remember my first encounter. He was at a Formica desk, its very ugliness highlighted by a canopy of fluorescent lights, and sitting directly opposite his style mentor, and if of our other legendary colleagues, Joyce Carter, and smoking his face off.  This was the Fashion & Design department as it was then called, a bare and stripped down corner of a loud and dirty annex to the newsroom with not a sample bag or any other form of graft in sight. The writing was its own perk.
The air was purple with the emissions from David's ever present cigarette. He had an ashtray in front of him, and it was overflowing with yellowed butts. David may have loved writing about aesthetics but in real life he was quite the slob. His shirt was rumpled and so was his hair. His thick rimmed glasses slid down a nose that, to be honest, was frequently held high in the air. David was an unapologetic snob. He barely deigned to speak with me in those early days. I was fresh out of university. I was known in the halls as the 'kid kwitic.' But I think David called me airhead. He definitely had a mean streak. He could sit quiet as a mouse, chain smoking away at some fashion function, then totally explode in a torrent of foul and insulting language if something went not how he liked. I experienced it myself, early on.
One of my dear school friends was walking the runway at the Canadian Festival of Fashion, a long ago precursor to Toronto Fashion Week. How long ago? Well, MAC cosmetics had just launched and had a booth on the floor of the convention centre. Karen Kain, then in her prime, sat front row. Comrags, Loucas, Clotheslines, Wayne Clark and Alfred Sung were among the designers showing their latest lines. My tall and leggy pal, like me just a few years into our twenties, looked wonderful as she strutted down the length of the elevated stage. She had modelled in Paris since leaving high school, and this was my first time seeing her do the glamour thing in real life.
In my excitement I turned to David sitting next to me and said, teasingly, "I'm sure you'll mention her walk." He had already established a practice of commenting on "mannequins" as he steadfastly called the rising breed of models who in a few short years would become as big if not bigger as the designers themselves. Model was a word that for some reason he found beneath him. He also knew my friend. It was just banter. A bit of off-the-cuff fun. But David flipped out, tearing a strip off me, there and then, about how no one ever tells him what to write and basically to piss right off. It was over the top, but that was David.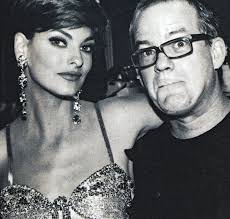 He had integrity and a great store of pride. He was irascible with almost everyone, and so I knew not to place too much stock in the outburst. He was back to being chatty with me in no time, fluttering his eyebrows as he spoke, not just about fashion, but the latest bands. He loved pop music, nearly as much as he loved fashion. I think his style writing was informed by the subversive rhythms of the day. It's one of the things that made him unique.
Our association at the Globe was short. David left the paper in 1996 when the distinguished investigative reporter and author, Stevie Cameron, another of our great Globe colleagues of times now very much past, invited him to join her in a new venture. She had become editor-in-chief of Elm Street magazine and she wanted David to be her fashion editor. He handed in his resignation. Perhaps I alone knew how significant it was that he would be leaving.
I had cut my teeth on his writing. As an undergraduate toiling at my university student newspaper I used to read him, Joyce and the Globe's late great film critic Jay Scott as part of my self-directed journalistic education. I noticed then how when his quirkily stylish fashion articles would appear alongside Joyce's in the weekly pages David managed to turn the dull grey national paper into a beacon of chic. Everyone read him. So I alone volunteered to write his send-off. The editors weren't sure. But I persisted and they relented. He wasn't a good interview.
All the while I tried to be serious, he kept squirming and smoking and mumbling things like, "Oh when a dog has a bone in his mouth how are you supposed to cope? " He was referring to an editor he didn't like. To paint his portrait in words I had to go outside the newsroom, to people who sincerely adored and respected him. There were many to choose from. I will share again their insights below. He thanked me but not really. All he gave me in return was was a raised eyebrow.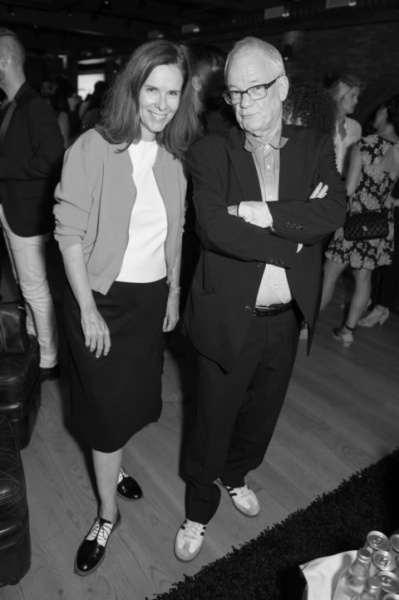 Since then, and in the intervening two decades, I kept running into David at assorted fashion events. Ironically, I had become the Globe's fashion writer in his absence, a job thrust upon me after years as the paper's dance critic. I always had his example to fall back on. Not that I ever solicited him for advice. I wouldn't have dared. When we were side-by-side in "le standing room" inside one of the tents at the European collections, two Canadians alone in a crowd, he had refused to speak to me. Life might not have gone as planned. Elm Street had folded and he had moved from fashion editing  job to fashion editing job. Despite his curmudgeonly behaviour toward me, I had urged him to apply to come back to the Globe. He was what everyone in the industry called the best, after all. But I think that interview had not gone so well. I never did learn the details. He continued to be elusive in conversation, though one time, and I never will forget it, he cornered me at a party which the Toronto Star reporter Susan Walker had thrown at her house, desperate to talk.
He was with yet another esteemed former colleague of ours, the architect critic Adele Freedman, and both them were smoking up a storm and inches from my face. Through choking clouds of arsenic laced fumes David loudly declared that he admired my guts. I had been bullied at work and had stood up for myself and had brought the meanies down. It was public knowledge. But few of my colleagues had ever told me to my face that they had been quietly rooting for me. David wasn't even there at the time. He had been watching me, obviously with Adele close by, from a far. It was an isolated moment of true comradeship. And all the more sweet for coming from one who never did mince his words when speaking out on something he felt strongly about. So I have that to cherish. And I always will. David Livingstone, thank you for leading the way. In tribute I share my original tribute to his genius:
Fashion & Design
The end of a stylish era After 13 years at The Globe and Mail, fashion reporter David Livingstone is moving on.
BY DEIRDRE KELLY
20 June 1996
FOR a guy who has spent the better part of his 48 years writing about couture, David Livingstone is no fashion victim. His clothes are workaday: a hockey sweater, a pair of Levi's, comfortable shoes and a labourer's jacket bought on his first trip to the Paris collections. But while simple, the uniform represents a studied esthetic. "A sense of style has nothing to do with money," said the bespectacled scribe, with a drag of his ubiquitous cigarette. "Besides, I love the clothes of the working man. They're honest."
Livingstone's admiration of what passes for truth in fashion — clean lines, natural fabrics and quality workmanship — has put him in good stead as a journalist. He is respected in fashion centres around the world as a writer of integrity and insight.
"You are the rarer kind of journalist [these days] who tries to communicate your ideas and inform your readers," wrote London designer Vivienne Westwood.
"If everyone could guarantee themselves an interviewer as thorough and as thoughtful as you, no one could ever refuse to give interviews," declared former New Yorker fashion writer Kennedy Fraser.
In Toronto, where Livingstone honed his craft first as a freelance writer on pop music and style for Maclean's and Toronto Life Fashion and, since 1983, as fashion reporter for The Globe and Mail, the accolades run thick in a business known for its cattiness.
"There's no question that David's brilliant," enthused FashionTelevision's Jeanne Beker.
"In a field where the lines between the art and the business are often blurred, David has never fallen prey to the promotional, but has always maintained a unique perspective in search of the artistry in fashion," added fashion public-relations consultant Jane Mussett.
"He's always able to put fashion into the loop of history and make it cyclical," said Krystyne Griffin, a former couture buyer for Holt Renfrew.
Livingstone's gift for turning fashion into witty cultural commentary has made him ripe for the picking. The taker is Stevie Cameron, the political columnist turned magazine editor, who snatched Livingstone away from The Globe to join her new Toronto-based publication, which makes its debut in October.
"I have always been a fan of David Livingstone's," Cameron said. "And when they [the magazine's publisher] offered me the job and they said I had to get a fashion-and-beauty editor, I kept phoning them from Jerusalem and from Russia and other places where I was travelling and asking them if they had talked to David yet because to me he's simply the best."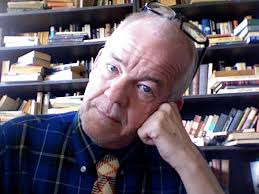 After 13 years and more than 1,700 by-lined articles, Livingstone leaves the Globe with the enthusiasm of a man ready to take on a new adventure. "I look forward to the opportunity to be involved in something from the ground floor up, to work with people who want to make this a successful venture and to function, finally, as an editor."
Livingstone came to fashion journalism in a laundry hamper. He was born in Glace Bay, N.S., in 1948. Both his grandfathers were coal miners. He was studying English at the University of Toronto when he landed his first job in newspapers, selling classified ads.
After graduating in 1970, he got a job as an editor in the publications department at TVOntario. His first writing was background articles in a TVO advertising supplement in The Globe and Mail. "I met a lot of journalists this way," Livingstone recalled. "And that's when I first realized that you didn't have to know about anything to have your name in print," he added with a smoky growl of a laugh.
Encouraged, in 1977 he quit TVO and started writing about pop culture full time. His first fashion piece was on sunglasses. He researched the subject to death, he said. "I have always liked doing research where fashion is concerned. Mainly because there's such flimsy material out there, so any investigation you do is fun because it's like covering new ground. And, of course, research is a way of avoiding writing . . . a painful and hideous process."
Livingstone's investigative skills have increasingly distinguished him from other fashion writers. "David doesn't rely on hearsay," said Bernadette Morra, fashion editor of The Toronto Star. "He will go as far as he has to go to find out what the facts are and what the actual history of a garment or a designer is. He never takes the easy road."
Consequently, he is never pat, never superficial. He lends fashion writing the dignity it deserves.
"It is a fine subject, sometimes," Kennedy Fraser wrote in a letter to him, "and I hope you keep negotiating its shoals and keep writing well about it for as long as you ever want to."
Search