Annoying Miranda Richardson
Posted by Deirdre | Filed under Blog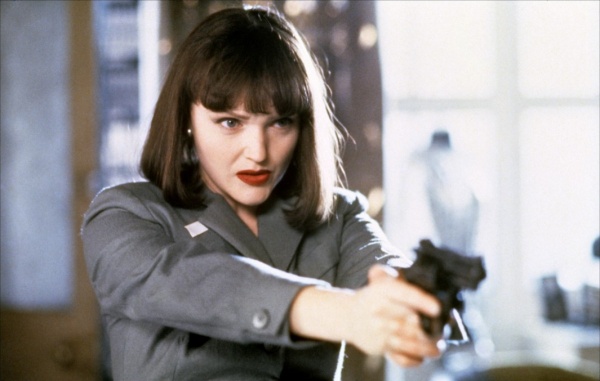 Miranda Richardson is having a bad day. Her big round baby-blues are red and scratchy, her fine strawberry blond hair is ruffled, and her pink eye shadow looks as if it were smeared on in a hurry. Whatever could be the matter? We are thinking of how to politely inquire when Richardson, a Camels Light in pale thin hand, gives us a basilisk stare.
Oh, god. We are the matter.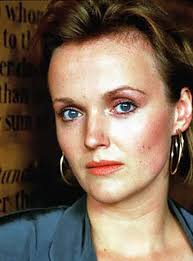 It is well known that Richardson hates us, the press that is. Even though she (apparently) has come willingly to Toronto to promote Swann,she has so far cancelled every scheduled interview but five.
She answers questions with terse one-word answers that begin and end with very long pauses.
She lights another cigarette and curls cat-like into an arm chair. Wearing slightly flared black pants, a fuzzy tangerine sweater and a pale-green ring, she wiggles the toes on her bare feet with the absent-minded look of a school girl.
Her delicate doll-like features belie a woman with a certain edge.
You don't just have to meet her in the flesh to figure it out. Check out the wide range of projects in her film career: big budget (Steven Speilberg's Empire of the Sun), low budget (Stephen Poliakoff's Century)and just about everything in between (Neil Jordan's The Crying Game and Brian Gilbert's Tom & Viv).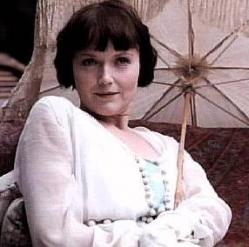 Nothing she has done has been predictable. Nothing easy or pat. And don't think her penchant for off-beat films and quirky roles hasn't been deliberate.
In Swann,a film in which she flattens her British accent in order to play a Yank (as she has before, in Robert Altman's Kansas City, and will do in The Apostle,a film that started shooting in Louisiana this month), Richardson plays an uptight academic-careerist who is struggling to complete a book on a Canadian poet.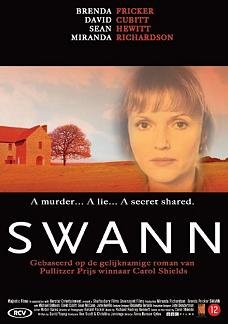 She says she chose to do the film because: (a) "I know David Young [Swann'sscreenwriter, a Canadian based in Toronto] and like him very much and like his work"; and (b) "I liked the journey of this character, this character who is coming to terms with where her life is, where her career is, what she thinks she needs and what she really does need to feel whole."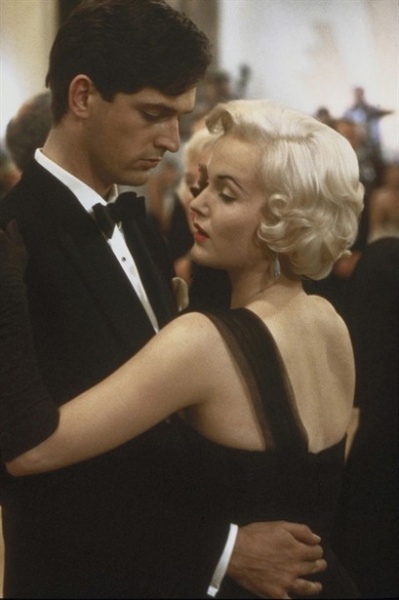 Richardson made her film debut with Mike Newell's Dance with a Stranger (1985). Cast as Ruth Ellis, the bottle-blond murderess who was the last woman to be hanged in Britain, Richardson, who was 27 at the time, caused such a stir that writers in the English-speaking world fell over each other to see who could out-superlative whom.
Born in Lancashire, England, on March 3, 1958, Richardson was trained at the Bristol Old Vic Theatre School. She still does theatre in between film projects and refers to the stage as a clean drink of water. This past summer at the Edinburgh Arts Festival she performed a one-woman play based on the Virginia Wolfe novel, Orlando.
Right to the end of this interview, Richardson is elusive, refusing to talk about her personal life ("that's why they call it personal"), except to say she is not married and several times has been unlucky in love. Which is why she prefers the company of cats with whom she lives in her flat in London.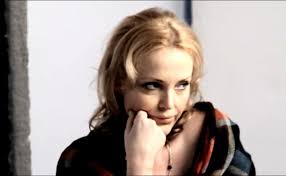 When a photographer asks to take her picture she shows her claws. She doesn't want to be clicked while talking.
"I don't want to be munched up like that," she declares. "I don't want to be set up for the end of anyone's suppositions or frustrated ambitions or whatever. That just doesn't sit well with me."
Search