Patty Duke Is Gone
Posted by Deirdre | Filed under Blog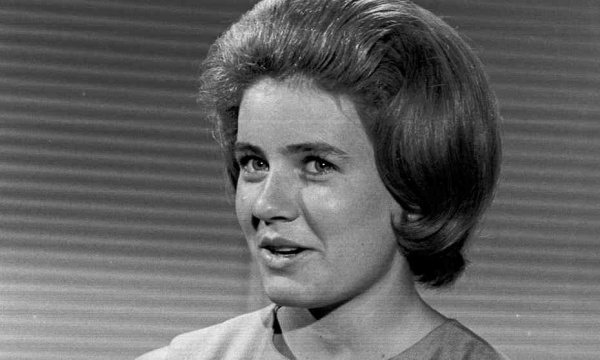 I grew up watching The Patty Duke Show, about Patty and Cathy, identical cousins who were "matching book ends, different in every way," as the catchy theme song described them. One like the Ballets Russes and the other rock and roll.  It was hard to know which one to like better because at heart they were really the same person– both played by Patty Duke using split screen technology.  A study of duality, the sitcom first aired in 1963, and represented teen America before The Beatles and other imported influences shook things up. It represented nostalgia and the new wave all at once. Ironically, Patty Duke was herself two people. Her real name is Anna but when she became a child star at age eight she took the name Patty. She really did feel like two people inside the same body and later in life would suffer from identity issues. She suffered from a bipolar disorder and yet she managed to achieve greatness in her life. She played the blind mute Helen Keller in Broadway's The Miracle Worker and reprised the role for the film version released in 1962. She won the Academy Award as the best supporting actress when she was 16, the then youngest recipient of an Oscar. But she wanted just to be herself and later in life she renounced Patty and became Anna again, a transformation she wrote about in her 1987 autobiography, Call Me Anna. I met the actress at this time, and wrote a profile of her for my newspaper, The Globe and Mail, which was based on our close encounter. I reproduce that conversation here in tribute to a woman who found a way to be whole again.
WHEN PATTY Duke was 23 she received a bouquet of green flowers from her boy friend Desi Arnaz Jr. and a note that called her his "special little Irish leprechaun." Now Patty Duke is 40 and married to her fourth husband, former drill sergeant Michael Pearce. She's no longer the manic-depressive starlet of Valley of the Dolls. She's given up pills, controls her alcohol instake and no longer feels suicidal. She's seen too much to be anyone's leprechaun, but she's ready now to weave her own mature magic.
Duke is currently riding a high wave. She just finished writing (with the help of GQ film critic Kenneth Turan) Call Me Anna, her shockingly personal and unsparing autobiography, which Bantam Books will publish in hardcover on Aug. 20. (Excerpts from the book were recently printed in People magazine.) She has just landed a new half-hour sitcom series called Karen's Song which premiered last Saturday evening on the fledgling Fox network. And though busy, she is continuing her role as president of her industry's largest trade union, the Screen Actors Guild, at a critical time in its history.
But as in the past, audiences are more interested in Patty Duke the Hollywood personality than Patty Duke the union leader/political activist/author. Duke, who was in Toronto yesterday to promote her book, realizes that to most people she is first a name and a personality. She's not bothered by that. In fact, with Call Me Anna she has used her public persona as a vehicle to get across an important message.
"I'm someone people feel they know," she said, curled up on a chair in her hotel room. Although her fans may not recognize the one-time wildspirit, from her newly coiffed coppery hair and long, shapely nails, there's a new glamor to Patty Duke.
"I'm approachable," she continues. "Perfect strangers feel comfortable enough to walk up to me in the street and talk. Sometimes someone like me can make an impression on people. So I feel a responsibility to these people, to let them know that the light everyone always told you exists at the end of the tunnel is true. It's there. It exists."
Duke has been struggling toward her own light for some time. Call Me Anna is a sad and complex tale of one woman's quest for self-discovery and self-control. Fundamentally it's a story of survival and in that way Duke accomplishes her aim – to impart a universal message, one that says even when you hit bottom (and Duke has hit bottom several times, hard) you can always pull yourself up.
Philosophy aside, Call Me Anna is a very personal story. It begins as a story of Anna Marie, the little girl born in 1947 to lower middle class Manhattan parents, who was to become the child star known as Patty Duke. Her mother needed money to support her family in the absence of her alcoholic husband and so sent her 7-year-old daughter to meet her actor brother's managers, John and Ethel Ross. Writes Duke, "I imagine what they saw was intelligence, a bright shiny little kid who would understand the score and who could be easily controlled."
Duke became the Rosses' protege. They manipulated her and molded her; they wanted her to be the next Grace Kelly, a ragamuffin who would make riches and, it was hoped, would marry royalty and become immortal as a star. Duke paints their control of her as tyrannical. They picked her apart, tore her down and then decided her name wasn't "perky" enough for the business. One day Ethel Ross announced, "Okay, we've finally decided, we're gonna change your name. Anna Marie is dead. You're Patty now." Duke was devastated. "Little did they know that over 20 years would be spent on a psychiatrist's coach because of that phrase alone," she now writes.
The Rosses effectively tore Duke away from her mother and turned her into a Broadway star. They were fine trainers and with their backing Duke, at 13, landed the role of Helen Keller in The Miracle Worker. She became an overnight success, but this served to intensify her managers' hold over her life. They now monitored every word she spoke in public and prevented her from making friends her own age. They introduced her to drugs and alcohol. During filming of The Miracle Worker, for which she later won an Oscar as best supporting actress, she says John Ross even tried to have sex with her.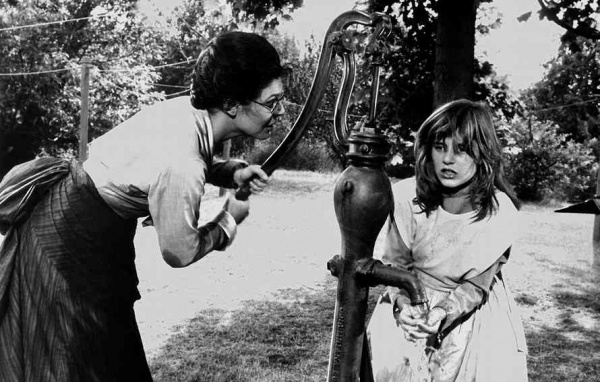 Duke broke from the Rosses while doing The Patty Duke Show (which they never allowed her to watch on television for fear it might "turn (her) head"). She rebelled by marrying Peter Falk, a man 14 years her senior, and later by taking up cigarets, alcohol and prescription drugs. She became self-destructive and manic and several times was institutionalized in mental hospitals. She divorced, married a man she didn't know, divorced again, had affairs with Frank Sinatra (she had already dated his son and Desi Arnaz Jr.). She got pregnant by John Astin, then a married man with three children, and led the world to believe the child was Desi's. She eventually married Astin, had another child by him, adopted his three sons, went on the road as a touring actress, and after years of turmoil, was finally diagnosed as a manic-depressive.
"From that moment on," she writes, "I wasn't frightened at all. It was such a relief, almost like a miracle, really, for someone to give what I'd gone through a name and a treatment."
Duke says it took "alot of bravery and bravado" to write about her life, but is relieved she did it. One reason she wrote the book was a promise to her mother to set the record straight. The other was more personal. "I always get self-conscious when I answer this question; it sounds so self-serving and noble. The truth is I feel better." The book was a purging. "It was a cathartic experience."
Duke believes she's learned a lesson from writing the book, but says she can't quite figure out what it is. Except this. "This honesty stuff really is the right policy for me. There's an enormous relief in coming out of the closet, no matter what it is."
Perhaps the most unexpected discovery for Duke is that the key to her future lies in her past. She says when she's on a set today and is having difficulty finding the right feeling or meaning for her character, she goes back to the days of The Miracle Worker and uses "the melancholy, the ache, the longing" to what she feels is a better, even higher, purpose. She also calls on her experiences of The Patty Duke Show. In the last few years she says she has made a more concentrated effort to absorb Cathy, one of the identical twins she played on the show, into her life. "I can be the fun-loving, easygoing Patty type, but I also can be conscientious and decisive. Even today as I was combing my hair, I looked in the mirror and said to myself, "Gee, you look like Cathy today."
Search