Howl! Howl! Stratford's Brian Bedford Has Died
Posted by Deirdre | Filed under Blog
I had just finished wading through the outpouring of grief on Twitter this morning for the passing of the great Brish actor, Alan Rickman, when I learned, with a shock, of the death of yet another English-born thespian, Brian Bedford, a veteran of Canada's Shakespeare Festival in Stratford, Ont. My morning has indeed become mourning. RADA-trained, Brian Bedford, who died Jan. 13, age 80, in Stratford, Ont., was a brilliant comedic actor and tragedian. I saw him perform many times in recent years, often in stellar productions of Noel Coward and Oscar Wilde which he directed himself.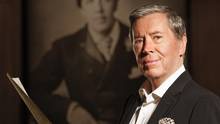 Mr. Bedford was a consummate professional and a real dear who invited me to his home in Stratford, regaling me with tales about the British theatre scene in the 1960s when he was classmates with Albert Finney and, for a brief while, Brian Epstein of  The Beatles fame. I am a due-hard Beatles fan and so relished him telling me about Epstein's gambling debts and backstage maneuvers before finding his calling as the Fabs' manager. I also shared with Mr. Bedford a deep love and admiration for Oscar Wilde and sat in rapt attention in his living room as he to,d me about his own connection to the legendary Irish wit. He had, when we met in the summer of 2009, just directed himself in a one-man tribute to Oscar. What a privilege it was to hear him talk about it, in the flesh as it were, his fave bursting with love, pride and enthusiasm. I shall miss him on the stage. I reprint my conversation with him in tribute.
For Brian Bedford the stage is his home, where he has spent the better part of his life performing as a classically trained actor.
But enter his sun-dappled residence in Stratford, Ont., located on a tree-lined street within walking distance to the theatre where he currently stars in his own directed version of The Importance of Being Earnest, and the feeling is that the reverse is also true: The home is his stage.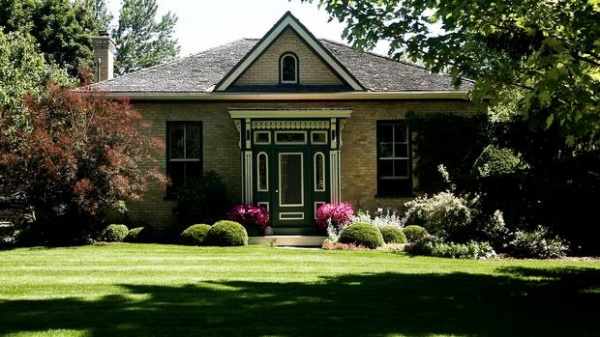 The 1880s, pale brick Ontario cottage where he has lived since 1985, sharing it with fellow Stratford Shakespeare Festival actor Tim MacDonald, is filled with artifacts reflecting more than 50 years honing a career devoted to live performance. From the framed series of 17th century theatre designs given him by his old friend Peter Glenville, director of the 1964 historic film, Becket, to the piles of books by and about Oscar Wilde, the Irish wit whom Mr. Bedford just finished playing tribute to in his one-man play, Ever Yours, Oscar, his immaculately kept one-storey is a thespian's showcase.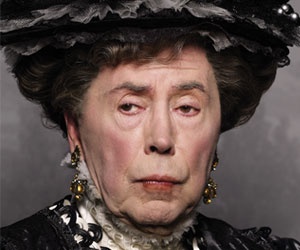 Every object in it tells a story – mainly the actor's own.
"It certainly isn't interior design," says Mr. Bedford, fastidiously dressed in shirt and tie even on a Saturday morning.
His voice is soft and accented with the plummy cadences of his native England, patrician-sounding, despite the actor's working-class origins as the son of a West Yorkshire soldier.
He continues, resting his slim frame against an upholstered chair in his archetypically English living room, describing how he came to buy the house that he loved at first sight because it was old but original – "built for those far more higher level members of the railway" that toward the end of the 1800s was one of Stratford's main industries.
The house came with a cherry orchard – "a thing of great beauty," as Mr. Bedford describes it – as well as a back garden planted with Japanese maples, wisteria and a weeping willow.
Two years ago, and following an earlier renovation that saw the addition of a new wing to accommodate a large bedroom with a mirrored ensuite for Mr. MacDonald, Mr. Bedford added a pergola over a back deck, accessible through two large French doors.
"I love this garden," he says. "It's very natural, and I suppose compared to what was – a mud field that looked straight out of Vietnam – it has become a lovely space, and very tranquil, thanks in large part to my gardener, David Scott."
The yard's unfettered beauty stands in contrast to the house's interior that has been thoroughly overhauled and re-crafted – much like one of his meticulously researched plays.
There, artifice rules in the form of polished surfaces like honed marble, cut glass and gleaming antique wood furniture, some of it locally sourced from Johnny's Antiques, located just outside the Stratford town limits.
Framed oil portraits of English gentlemen and fishing scenes inspired by his native Yorkshire line the walls, while copies of Trollope fill the pine bookcases.
In the adjoining study, in addition to a David Hockney painting given him for his birthday by the painter himself, is a Constable-esque wall mural of what appears to be the English countryside. Mr. Bedford commissioned it from local artist Mark Fletcher, a resident of nearby St. Mary's.
The overall feeling is of an English drawing room in Covent Garden, gilt pineapples and bone china and all.
"It's all radically changed from what it was originally, when I first saw it and fell in love with it," Mr. Bedford says, in describing the renovation he initiated three years ago.
The house had previously belonged to Polly Bohdanetsky, a Stratford costume designer, and it was composed on the main floor of three small rooms that Mr. Bedford found dim and confining.
He tore down interior walls to open the house up and make it more light-filled, refitting it with new high windows and wide plank pine flooring. he also completely eliminated a second floor, replacing it with a soaring 12-foot ceiling that makes the house seem elegantly spacious, despite having only about 1,200 square feet of living space.
Says Mr. Bedford, "I wanted a place where I could have my own lamps, and stuff."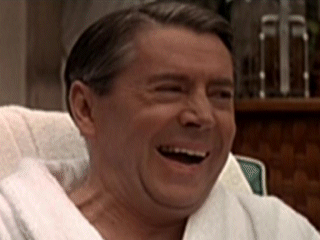 Mr. Bedford attended the Royal Academy of Dramatic Art and had as classmates Albert Finney and Peter O'Toole esteemed English actors who were part of the modernizing movement that transformed British theatre in the late 1950s and early 1960s. He remembers especially his friendship with the late actor Alan Bates.
"He was my great friend," says Mr. Bedford, relishing the memory. "And I miss him terribly. It was thanks to Alan that I was cast in The Young and the Beautiful [Mr. Bedford's London debut]. Peter Brook, [the innovative British stage and film director], saw The Young and the Beautiful and asked me to be in [Arthur Miller's] A View From the Bridge, and that took me to Stratford-upon-Avon where Sir John Gielgud was Prospero in The Tempest and I was Ariel, at the age of 21."
The rest, as they say, is history.
Mr. Gielgud ended up playing real-life mentor to Mr. Bedford, and today a large framed picture of his likeness hangs inside his home's foyer, immediately grabbing the attention of anyone entering through Mr. Bedford's green frame front door.
This pictorial tribute is in acknowledgment of Mr. Gielgud being responsible for first bringing Mr. Bedford to North America after having cast him in his 1959 production of Peter Shaffer's Five Finger Exercise.
The play toured several major cities in the U.S., eventually leading to Mr. Bedford coming to Stratford where, after 27 seasons, he remains one of the leading lights of the town's annual theatre festival.
The actors' friendship was such that upon his death, Mr. Gielgud bequeathed Mr. Bedford several of his own prized possessions, among them two hand-drawn costume sketches, dated 1949, and signed by the costume designer.
Detailing armour and weaponry for characters in Much Ado About Nothing, the Shakespeare play in which Mr. Gielgud had performed, they now take pride of place inside Mr. Bedford's English-inspired living room, sharing space with an extensive collection of painted Staffordshire porcelain and hand-knotted carpets imported from Morocco, where Mr. Bedford also has had homes, often using them to memorize the lines he eventually performs in Stratford:
"I've done an awful lot of preparing for parts in Morocco and a couple of years ago, in a tiny village right in the souk overlooking that gardens, I was learning King Lear and shouting, Howl! Howl! The poor people. They had no idea of the things I do, and I could just imagine them, calling me the mad Englishman. Which I might be, exactly."
Search