Bruce Greenwood: The Canadian Actor Other Canadians Are Finally Recognising.
Posted by Deirdre | Filed under Blog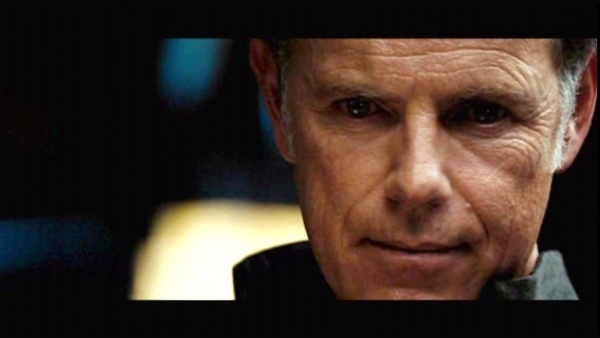 Canadian actor Bruce Greenwood has been nominated in the best actor category at the Canadian Screen Awards taking place tonight, March 1, in Toronto. The honour acknowledges his performance in his new drama, Elephant Song. It is not the first time the Quebec-born actor has been nominated. And likely not the last that reporters, in the days leading up to an awards ceremony, are tripping over each other to free him from conspicuous obscurity. Bruce who? Greenwood is that thespian you've seen everywhere but can't quite conjure when told his name. That's not entirely a negative. As the immensely talented actor told me in an interview I conducted with him almost 20 years ago, in December, 1994, Greenwood's elusive celebrity can be chalked up to being so skillful at playing other people that audiences just can't  get a handle on who he really is. It's a sign that he is truly deserving of the accolades continuing to stream his way. He's that good, an actor who can submerge himself entirely in a role. Here's more of that conversation:
ON the day of the Genies, actor Bruce Greenwood was in Toronto anticipating the two-hour live telecast that would reveal whether or not he walked away with a best actor award for his mesmerizing performance in Atom Egoyan's Exotica. As it turned out, he didn't win. The award went instead to Maury Chaykin for his performance in Whale Music.
But that was okay with Greenwood who, before the awards ceremony, said he'd come to the Genies to generally drink himself silly before turning back into a pumpkin the second the show was over.
Yesterday morning, he confessed, in a froggy voice, that, yes, indeed, he had "made a little merry" at parties following Exotica's many triumphs at the Genies. He also acknowledged that his earlier self-deprecating posture was largely a joke. While pretending to be the threadbare character in the fairy tale who attends the party only by a stroke of luck, Greenwood now realized that, with the nomination in hand, he had deserved to there. "I think the most salient thing for me was that throughout the evening people kept coming up to me to thank me for what I did with Francis (his role in Exotica). And that felt gratifying. But also I got to meet a lot of people I had only seen on screen, or had just heard about, and that made me feel that finally I am a part of a community to which I thought I never belonged. So at least people will now know who I am."
Greenwood has hardly been skulking in obscurity. Before Exotica, the 38-year-old actor with the sandy blond hair was making a living in Los Angeles, where he moved from Vancouver 11 years ago. While relatively unknown in this country, in the United States he gained widespread attention playing Seth Griffin, the HIV-infected doctor in NBC's now- defunct hit television series, St. Elsewhere. He was also known for performances in the Fox television series Hardball, as well as such TV movies as Bitter Vengeance, Treacherous Beauties and the CBS mini-series The Companion.
Greenwood came to acting by serendipity. The first-born child of a geologist father and a nurse mother, Greenwood says that he was a terrible student who didn't care for school until he discovered acting. Shy a couple of credits for a college degree. he chose acting, thinking it would be a cinch. Instead, it challenged and inspired him.
"When I first did acting, my motives were pure . . . a pure desire for money and recognition," he says with an impish smile. "No seriously, I was simply overwhelmed by the beauty of great playwriting and by the opportunity to play great roles. And I did that for 10 years on the stage before jumping into the machine of L.A. And then five years after moving I was doing television work."
As he gets older, he finds himself wanting to return to projects that are less money-driven and more heart-felt. Projects like, well . . . Exotica.
The film, which won eight Genies Wednesday night, will undoubtedly raise Greenwood's profile in his native Canada. "Exotica won't alter my career at all, but I think it will alter people's perceptions of me," Greenwood says. "Before, I think I was probably seen as some middle-of- the-road television guy who just did movies-of-the-week. I don't think people thought I could actually do this."
This is his performance as Francis, a disturbed – and disturbing – tax auditor who has recently lost his daughter to a random killing. He transfers his feelings of remorse, guilt and twisted desire onto a young, dysfunctional stripper, played by Toronto actress Mia Kirshner. The scenes in the strip club show Greenwood as wasted, confused, disoriented – a man older than his years.
In a scene at the end of Exotica Francis is seen as he was before his world fell apart. The contrast between the portraits of Francis then and Francis now is so striking that some have seen the part as played by two different actors.
"There was this guy who came up to me in Cannes (where Exotica debuted in May)," says Greenwood. "We were just standing around at one of those sardine-like parties and conversation halted for a moment and he looked at me and asked me what I did. 'Are you involved in the film in any way?' And I said, 'Yeah, I'm one of the actors,' And he goes, 'Yeah. You were that guy at the end, right?' And I said, 'Yeah, well, I was also in the rest of it.' And he goes, 'Look pal, I'm a plastic surgeon. I make my living evaluating people's faces. That guy was 50 years old.' I just went, 'Okay. I guess it wasn't me.' " And then he laughs uproariously.
Search