Brian Macdonald Hears A Heavenly Voice
Posted by Deirdre | Filed under Blog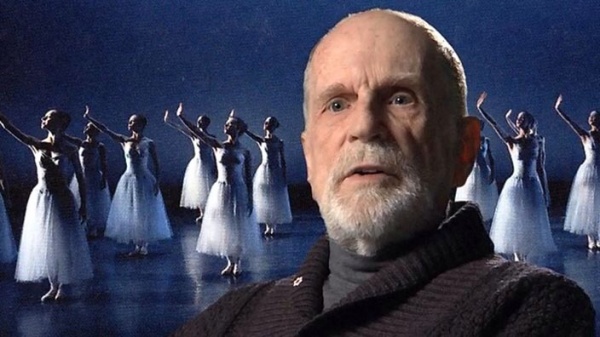 The esteemed Canadian director and choreographer Brian Macdonald died this afternoon in Stratford, Ont., age 86.
I was fortunate enough to have spent time swirling about in his starry orbit, having gotten to know him both on and off the stage.
I am a dance critic and I grew up knowing of his legacy as an original member of Toronto's National Ballet of Canada who went on to form fruitful associations with Canada's other major classical dance companies, Les Grands Ballets Canadiens in his native Montreal and the Royal Winnipeg Ballet in Winnipeg. Brian Macdonald's association with dance extended internationally to The Royal Swedish Ballet, the Harkness Ballet in New York and the Batsheva Dance Company in Israel. He had been artistic director of all three, at various times, during the dance boom years of the late 1960s and early 1970s.
I had admired his ballet Rose Latulippe, and had laughed heartily at his staging of The Pirates of Penzance. I first came to know him as an individual, however, through his wife, the former Les Grands dancer and Swefish native, Annette av Paul. Brian had invited me to dine with them in their Montreal home on the occasion of Annette's retirement from the stage in 1985. I remember that the food was wonderful, the wine was flowing, and that Brian, in real life, was a warm, engaging, funny and curious man.
When the couple later moved to Stratford, Ont., to be closer to his work at the Stratford Festival directing stellar productions of Gilbert and Sullivan, I again was invited inside their home, where the talk always centred around the arts.
He could be imperious with me at times, and withering in his remarks. But I considered him truly unique, and was always in awe of his talents, and also his diva ways. I wrote on him extensively, and don't think that this made him spare me barbed criticism of his own.
If he didn't like what I had written he always let me know it. He could be churlish with me. But I forgave all because he was a great talent, a true believer in Canadian culture.
He once insisted I come to a rehearsal involving him and Mavor Moore. Can you believe it? He wanted to make sure I knew what was what, and who was who. I paid close attention.
Brian Macdonald devoted his entire life to building an audience for the arts in Canada. I for one am truly grateful.
I thought to reproduce one of our conversations, as recorded in 1998 in the Globe and Mail, in tribute. In it he talked of hearing choirs of angels. I hope that is what he is listening to now:
Brian Macdonald is the bionic man — directing operas for the National Arts Centre in Ottawa, choreographing ballets in Sweden, attending workshops of new theatrical productions in Toronto and tending his garden at home in Stratford, Ont. His Stratford Festival production of The Mikado, by Gilbert and Sullivan, was a hit on Broadway and in London. It has been revived for a Canadian tour, opening in Victoria tonight and Mississauga on Sept. 24.
A 70-year-old dynamo, Macdonald does everything well, without a hint of exhaustion.
Except that during the interview, this past spring, he was limping. A casualty of the great 1998 ice storm, he slipped and broke his leg while walking outside the house that he and his wife, the former ballerina Annette av Paul, still own in his native Montreal.
While the bone was healing, he walked with a cane. He spent the winter fearing that he would never walk again. "I was hysterical," he admitted.
His legs, you see, mean everything to him. Without them he might have become the lawyer his Scots Presbyterian family was grooming him to be. But with them he has waltzed his way to success.
A member of the Order of Canada who has been associated with almost every major arts institution in the country, including the National Ballet of Canada (he was a charter member), Macdonald has long limbs meant for the winnowing grace of dance.
His legs marched him into a dance studio when he was a student at McGill University. And his legs marched him back out again, toward a career as a choreographer.
"I had done a lot of figure skating, and that was unpopular because boys played hockey. So I had turnout and strong legs. I was always crashing and jumping and I loved spinning."
He remembers precisely the day he decided to become a creator of dance instead of an interpreter. "It was a long time ago, before you were born," he said with a warm smile. "I was studying dance in Canada. I had seen American Ballet Theatre. But then Les Ballets Russes came to Montreal. They needed a rehearsal studio and my teacher asked if she could use the gymnasium at the university. I got it.
"I went there to see the company in rehearsal. They were just starting Concerto Barocco [the George Balanchine ballet of 1941]. One of the girls was in high heels, I'll never forget. I watched this exquisite ballet of point and counterpoint and I walked out later into the sunshine and said, 'That's it. I have to be a choreographer.'
"I was 17. And when you talk about moments where the sky's on fire and a heavenly voice speaks to you, it was that kind of moment. I started to take my dance studies very seriously after that."
Search