Inside the Mad Genius Mind of Vaslav Nijinsky
Posted by Deirdre | Filed under Blog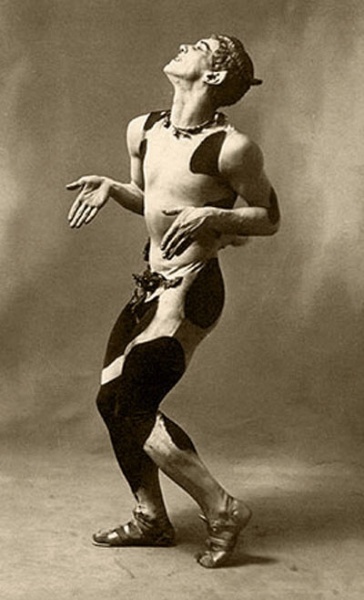 Watching John Neumeier's Nijinsky, a ballet based on the life of the Ballets Russes dancer and choreographer Vaslav Nijinsky, I am reminded of the time I spent in Montreal trailing two of the world's Nijinsky experts as they taught Afternoon of a Faun to Les Grands Ballets Canadiens from Nijinsky's own encrypted score. Claudia Jeschke and Ann Hutchison Guest had broken the code of his highly idiosyncratic form of choreology, a breakthrough as significant as the deciphering of the Rosetta Stone. I was the only journalist to witness the momentous event of a contemporary ballet company learning a work as Nijinsky himself conceived it. It is worth reproducing, as a reminder of how extraordinary an artist was the great Nijinsky.
THE FAUNS are having trouble with their flutes.
Reclining on their haunches, stretching to capture the glow of a sun- dappled day, four male dancers from Les Grands Ballets Canadiens are trying hard to look like the frisky woodland deities of Vaslav Nijinsky's L'apres midi d'un Faune.
The only snags are the flutes.
As Claude Debussy's score plays on a tape recorder in the background, one dancer holds his flute slightly away from his pursed lips; another has his poised hand's length from his upturned face. The remaining two look as if they are about to gobble theirs.
Dance reconstructionist Ann Hutchinson Guest is unimpressed.
"It's a pipe you're playing, put it to your mouth and make like you are playing it," she admonishes, reaching for a soft-cover book full of lines, squares, circles and dashes, the symbols of choreographic notation. She flips the pages, looks down through her glasses and finds the proof she is looking for. "He says here, 'pipes to lips,' so pipes to lips it is."
"He" is Nijinsky, the legendary Ballets Russes dancer whose spirit dominates the long and painstaking process of reconstructing his most revolutionary work on the young bodies of these classically trained dancers.
Hutchinson Guest has come from England to teach the dancers of Les Grands Ballets Canadiens Nijinsky's original 1912 ballet. Assisting her is Claudia Jeschke, a dance historian and theorist from Munich. Together, they are reconstructing Nijinsky's work from his own dance notation, a novel method of choreographic manuscript that Nijinsky invented and which until now has been indecipherable.
Hutchinson Guest, a 71-year-old former U.S. dancer and dance-notation expert now living in London with her husband, British author Ivor Guest, and Jeschke, a 39-year-old professor of dance studies at Munich University who wrote her doctorate thesis on dance notation systems, worked independently for years on deciphering Nijinsky's system. Eventually, they heard of each other's work and decided to join forces. Over the last two years, both have found time to meet in various cities around the world to develop their analysis. Only recently did they break Nijinsky's code, and their presence in the Montreal studios of Les Grands Ballets marks the first time Nijinsky's 1912 ballet has been fully reconstructed according to his own manuscript.
The ballet will have its premiere as part of the company's forthcoming Hommage a Diaghilev program at Place Des Arts, Oct. 27-28 and Nov. 2. As ballet impresario Sergei Diaghilev's star protege, Nijinsky will be rightfully highlighted.
Company general director Colin McIntyre initiated the Nijinsky project. "It's a great Diaghilev work," he said while watching Hutchinson Guest and Jeschke in rehearsal. "Also, the opportunity to have the first production from Nijinsky's own notation made the project desirable. I think it's important because people argue that Faune is the first modern dance – ballet it clearly is not."
The women agree. "It's a breakthrough piece of choreography," says Hutchinson Guest during a break from rehearsal. "It's the first ballet that doesn't use a proscenium stage," continues Jeschke. "There's no one perspective. Before this, dancers had to project to the audience, something that developed from the days of the court ballets when dancers only performed to the king. Nijinsky has made the whole perspective flat. Everything is happening at the same time, which was a new concept in 1912."
The work, which met with a tumultuous reception at its Paris debut, also demands that the dancers think not of presenting movement but of using movement to convey emotions and hidden states of mind. Explains Jeschke: "They have to act, not just demonstrate; they have to feel it."
L'apres midi d'un Faune is important for dance historians because of the four extant Nijinsky ballets (The Rite of Spring, Till Eulenspiegel and Jeux are the others), it is the only one known to have a written score. He had encountered dance notation as a student at the Imperial Dance Academy in St. Petersburg, and began to work on his own system around 1903. During his travels after 1909, he gave many interviews to the European press in which he told of his system, and he later said that he considered this to be his most valuable contribution to choreography. He was able to put his ideas to paper after his dismissal by Diaghilev and during the 1914-18 war while detained in Budapest, where he notated Faune. His system was left undeciphered for so many years because he left no instructions on how to use it.
Hutchinson Guest and Jeschke spent a lot of time trying to figure out the system by reading Nijinsky's notebooks, then discovered that they had nothing to do with Faune at all, as Nijinsky had used them to record ideas about a second system. Jeschke was able to translate some passages into fluent movement description, while Hutchinson Guest was able to decipher others.
Hutchinson Guest and Jeschke are in the city for two weeks, teaching the dancers their roles and the ballet masters Nijinsky's radical style and technique. They have with them bound copies of their own breakthrough work on the Nijinsky system, now translated into Labanotation, a more accessible system developed by Hungarian dancer and choreographer Rudolf van Laban in the 1930s, and refer to them constantly during the teaching process. They want exactness, and are quick to correct the dancers when they stray too far from Nijinsky's original conception. Yet, they do so with a genuine respect for the dancers as artists.
"Be careful that every single detail is performed out," warns Jeschke while watching the "fauns" put down their flutes to pick up an imaginary bunch of grapes at their feet. "See the grapes," Hutchinson Guest shouts out. "He says here that the fauns see the grapes with their eyes and their faces." The dancers struggle to come to terms with a movement vocabulary foreign to their training. "Breathe into it," advises Jeschke. "Make your bodies sensitive to the smell of the grapes."
"Don't be afraid to exaggerate a bit," suggests Hutchinson Guest. "That's how you become an artist." A dancer asks about the position of his downturned palm. How close should it be to the body and how should the thumb be turned, up or down? This time, they refer to a book of dance photographs by Baron Adolph de Meyer, who recorded Nijinsky and other members of the original cast of L'apres midi d'un Faune following the ballet's debut in Paris. The photographs have been helpful for illuminating details from the choreographic text.
Colin McIntyre, on the other hand, has used the de Meyer book to familiarize himself with the ballet's look. De Meyer's camera often lingers on details in the flowing Grecian costumes designed for the original ballet by Leon Bakst. In addition to the costumes, the Russian painter and theatre designer painted a large canvas depicting a woodland scene that served as the ballet's decor. McIntyre said set and costume designers at Les Grands have been using de Meyer's photographs as a guide for their designs.
What Hutchinson Guest and Jeschke have revealed through their research is that Nijinsky was a man of extraordinary talent.
"What great dancer do you have today who has invented a system of notation and who has written down a full ballet in that system? You can't name one," observes Hutchinson Guest. "Just that fact alone shows that the man had great depth, the extra dimensions that may be attributed to genius."
Search