Renee Zellweger: I Knew You When
Posted by Deirdre | Filed under Blog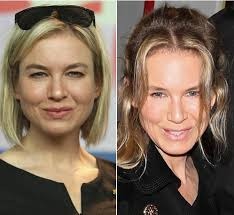 All the blather about Renee Zellweger's new face made me remember that I knew her when she was merely another face in a crowd: practically unknown. I met her in 1997, just as she was on the cusp of international celebrity. She was shy, tongue-tied, awkward in a geeky yet endearing way. We lounged together on her hotel room bed, me yanking information out of her, she almost always turning away. She went on to become a big star, but with the facial surgery making her almost in recognizable from the person we knew before, is now retreating again into a kind of anonymity. I guess I am saying that is the real Renee. She actually never liked being in the sPotlight. I have that first-hand. Read for yourself:
Toronto — 'I'M definitely a private person," says Renee Zellweger, avoiding eye contact. "There are a lot of things that I don't like to talk about. Nothing is more boring than to hear someone say all the time, 'I, Me, I.' "
Instead, the 27-year-old actress, who stars in Jerry Maguire and The Whole Wide World,wants to know about her interlocutor and asks questions of her own. Her curiosity seems to stem from a childhood ambition to be a writer herself.
How appropriate, then, that The Whole Wide World,her latest film, is about writers and their relationship to one another and their imaginations. It's a long way from the sex-kitten roles she has been cast in, in such B-movies as a sequel to The Texas Chainsaw Massacre and Love and a .45.
In the past year, her peers at the Independent Film Projects selected her as best newcomer of the year and she has also won the National Board of Review's newly created award for best "breakthrough performer" for her two most recent starring roles. In November, she was featured in Vogue and Vanity Fair.
From sexy, B-movie starlet to critic's darling in just a few years . . . What does she think of all the attention?
"Not a whole lot," she says tugging at the tassels of a sateen pillow she has just yanked off a bed in a downtown Toronto hotel room, where her agent and publicist have ensconced her for the first of a series of interviews.
Dressed in baggy jeans and a rumpled long-sleeved cotton shirt, Zellweger is visibly uncomfortable talking about herself and betrays nothing of the egotism that often accompanies Hollywood starlets. She holds the pillow protectively and says she realized she would be an actress during an epiphany she had when she was 20 and attending classes in literature at the University of Austin.
"It was a commercial for the American Beef Council. It was a turn-of-the-century barbecue at an all-girls school. We did a tug of war in 105 degree mid-August weather, dressed head to toe in wool. The shoot lasted eight hours. Glamorous it wasn't. Yet, in all of it, I managed to find something strangely satisfying. I loved the process."
In Wide World,Zellweger plays Novalyne Price, the Texas schoolteacher who formed an intimate friendship with pulp writer Robert E. Howard (Red Sonja, Conan the Barbarian, Kull the Conqueror, Solomon Kane )because of a deep ambition to be a writer herself.
Price eventually realized her ambition when, in 1985 at the age of 76, she published One Who Walked Alone,which is largely based on her relationship with Howard.
Two former students of Price were inspired to turn the story into a film. Michael Scott Myers, who wrote the screenplay to The Whole Wide World,and Benjamin Mouton, who has a role in it, showed Price's book as well as her personal collection of photographs and correspondence to first-time director Dan Ireland, co-founder and former director of the Seattle International Film Festival, who shortly after launched a five-year journey to get the film made.
On the eve of The Whole Wide World'sscreening at the Toronto International Film Festival in September, Ireland told The Globe and Mail he had a lot of people to thank: Actress Olivia d'Abo, whose pregnancy forced her to abandon the lead role at the last minute; Joel and Ethan Coen, the writer-director-producer team (Fargo ),helped find another editor when the initial one dropped out; Hans Zimmer, who not only waived his fee for musical direction, but put $10,000 (U.S.) of his own money into the $1.3-million film (U.S.); actress Theresa Russell, who lent a critical ear to the score. He also praised actor Vincent D'Onofrio (Ed Wood, The Player, Full Metal Jacket )who plays Howard and is one of the film's producers.
Ultimately, though, Ireland heaven for Renee Zellweger.
"She was my gift from God. I didn't know the film could happen when Olivia d'Abo dropped out. But then someone told me about Renee. I had seen her in Love and a .45 and thought she was a great actress, but not my prim and proper Novalyne Price. But then she auditioned and she opened my heart. I cried on the spot."
Zellweger smiles shyly when told of Ireland's near swoon at the mere mention of her name. "Gee, well, that day, I wore a dress," she says, looking to explain what Ireland might have found appealing about her. "I tried to stand a little taller and be a little more ladylike as far as the performance was concerned, because that woman, Novalyne Price, is quite a lady, and I met her, you know, and I wanted to make sure I was as accurate as I could be."
Zellweger believes she wouldn't have made The Whole Wide World — or any of her recent films — if she had not left her native Texas for Los Angeles five years ago. (Zellweger is from a small town outside Houston called Katy. Her father came to the United States from Switzerland, her mother is from Norway.)
At the University of Texas in Austin, Zellweger studied writing, but discovered her true calling when she took a drama course. After graduation, she stayed in Texas for a few years, auditioning for every movie part that came along. She had a few lucky breaks — bit parts in Reality Bites and Dazed and Confused — but nothing on the level of a breakthrough.
Despite "playing the fifth waitress" in some low-budget movie that no one really saw — let alone talked about — she was determined to stick it out. "Not because I wanted attention, not beause I was afraid and needed it as therapy or something, but because I love it. There's something so satisfying about bringing this one-dimensional person on paper to life. It's really satisfying to visit those places inside yourself and to learn about yourself more."
Search