Shoe Me
Posted by Deirdre | Filed under Blog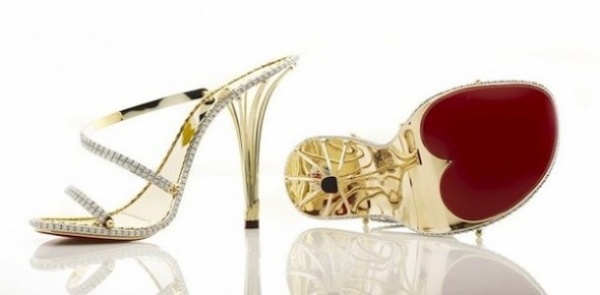 The view from atop a pair of four-inch heels is pretty good. The legs look longer, the muscles tauter — as if I've been working out all my life.
But then I get a touch of vertigo when I glance down at the price tag — $1,195 for a shoe that is basically a licorice-length of leather twisted daintily around a naked foot.
Morry Swartz, who has been selling slender nothings at Davids on Bloor to such high-profile clients as Liza Minnelli, Barbara Amiel and Diahann Carroll for the past 51 years, tells me that thousand-dollar sandals are the norm these days in a market gone gaga for luxury goods like shoes and handbags.
"Shoes are the new status symbol," he says, nimbly placing my tootsie on his thigh (buying footwear encourages intimacy). "It really doesn't matter what they cost. If a woman wants them, she is going to buy them." Well, I'm not buying these — gorgeous as they are. The gold leather bejewelled dress shoes by Italy's Renè Caovilla are meant for a more delicate foot. When I walk, my toes fall out of them. The decorative strap rubs against what Mr. Swartz calls my "enlarged joint" (a bunion). "Madam has a problem foot."
I'm on a quest for the city's most expensive shoe, and for days have been trying to scale the Everest of high-priced high heels. But so far the season's wispy nothings won't fit. Wanting to be Cinderella and not the stepsister, I'm determined to find out why I am failing shoes any bimbo could wear.
I sashay over to Ron White The Foot Shoppe in the Manulife Centre, where his designer shoes, hovering around the $500 mark, have made him the best friend of every shoe-addicted woman. "The reason is, I sell sexy and comfortable," Mr. White says, explaining the popularity of his shoes among such celebrities as Canadian soprano Measha Brueggergosman. "For that, no fashionista is even going to think twice about what it costs."
The high heels on display are so yummy it's hard to believe they are good for your foot. Skeptical, I point to crocodile black patent pumps, $535, by Anyi Lu. They are so fabulously dangerous-looking they have to hurt. But no, they are light as air. Mr. White says it's because they are made with Poron, a NASA-developed foam that absorbs shocks and gives the heels the bounce associated with running shoes.
But they rub my foot the wrong way, because they have a hidden arch support and I have no arch. "You also have a narrow girth," Mr. White says, measuring my foot with an instrument that looks as if it came out of a 19th-century gynecologist's office.
He sends me on my way, but warns me against peep toes — this season's signature shoe — and footwear without ankle straps for support, no matter how tempting: "Your foot is so thin it would just slide out of the shoe." When did skinny become a fashion handicap?
I arrive with a little too much information about my feet at Holt Renfrew, where I find myself in the expert hands of shoe salesman Derrick Adams. I nix the slides and the pointy-toes, the slingbacks and the kitten heels. With more than 20 years experience, Mr. Adams has yet to meet a foot he couldn't fit. He hands me a pair of sparkling Gina blue satin pumps, $1,495. Genius.
Mr. Adams sees my eyes light up and leans in for the kill: "Before the lady even turns over the shoe to look at the price tag, there's a certain feeling she gets that makes her think, 'Who cares what it costs? I've got to have it.' " I am wondering if I am about to cross that line.
"Sometimes," he continues, his voice like a nudge, "the price is a secondary factor, because the shoe has moved her in a particular way." I try it on. I wince in pain. That's not the feeling he meant.
At Zola on Avenue Road, Toronto's shoe harem, Joanna Whitfield is the perfect gal pal — the one you want to shop with, because she puts you up to buying that expensive shoe. "You've come to the right place," she enthuses. "There's a global market for high-, higher- and highest-priced shoes. . . . Customers want the exotic skins, they want the designer names. The bar has been raised, forever. Last year's $500 shoe is this year's $850 shoe."
To prove it, she points to the $1,195 blue patent orchid-shaped shoe by Britain's Rupert Sanderson (constricting), the $2,185 bronzed python boot by Devi Kroell (concealing), the $635 sequined Emma Hope running shoe (sensible).
Undaunted, Ms. Whitfield goes into the backroom and returns with a pair of purple python Missoni wedgies with art deco cutouts.
I fasten them on and then am off, making loop-de-loops instead of straight lines. I'm in love. I've got that feeling that makes the $950 price become secondary to desire.
But now that I've neared the summit, have I actually plateaued? I ask Ms. Whitfield to put them on hold for a day until I make sure, reallysure, that I have found the top shoe in Toronto for me.
That's when I call Colin Campbell, Canada's Manolo Blahnik. He handcrafts exquisite high heels from his basement at the corner of Pape and Gerrard, starting at $1,500. He tells me that expensive shoes are usually worth the money. "A high-end shoe by a name designer is going to have a good shaft, the insole boards are going to be brilliant, the soling material is going to be top-notch and the stiletto is going to be properly made — a hardened spike that . . . will never snap."
He offers a stiletto — a nail on a wedge of leather gussied with ribbon; I fall out of them. He calmly shows me a custard-coloured leather pump with a sculpted heel of cherrywood that he hand-carved.
"It's a sleepy-looking shoe," Mr. Campbell says, knowingly. "The colour isn't a wow. But when it's on, it's va-va-voom." And at $2,400, this custom-made shoe is mine alone.
Cinderella has found her shoe.
Search