When Pushkin Is Your Birthright: A Great Russian Ballerina Describes What It Is Like To Dance A Great Russian Poem
Posted by Deirdre | Filed under Blog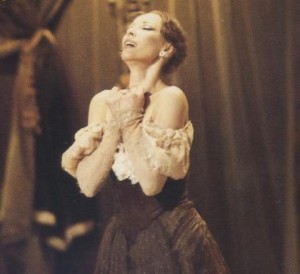 Years ago, I had the great privilege to interview Natalia Makarova on what it is like to dance Tatiana, the female lead in John Cranko's ballet version of the Pushkin poem-novel, Eugene Onegin. Here is that interview below, a telling read as the National Ballet of Canada prepares to perform Onegin again in Toronto tonight with Sonia Rodriguez and Aleksandar Antonijevic leading the cast in what will be Antonijevic's final performance of the ballet.
By Deirdre Kelly
Looking every inch a queen in her satiny gold shoes, bronze-and- gilt- thread turban and dazzling jewels, world-famous prima ballerina Natalia Makarova holds court in her plush suite at Toronto's King Edward Hotel. The curtains are drawn and the lights dimmed. Everyone in the room (her personal manager, her Toronto press representative, the local TV camera man) speaks in hushed tones. Only when Makarova suddenly lights a cigaret, grabs a snifter of cognac and swings her million-dollar legs playfully alongside the coffee table, is the ice mercifully broken.
Still, there is the feeling that, one false move and the gloriously proud dancer would quickly stand to attention and leave the room.
Makarova is in Toronto to dance in the National Ballet of Canada's production of Onegin, a ballet based on Pushkin's verse novel, Eugene Onegin. She will give two performances only, Tuesday and Sunday of next week, at Toronto's O'Keefe Centre. Makarova, who says in her heavy, husky Russian accent, "I love dis ballet," rarely gets to perform it – few companies have Onegin in repertoire. So when artistic director Erik Bruhn invited her to dance Tatiana, the female lead in Onegin, she didn't hesitate. "Dis ballet goes with my background," Makarova says, exhaling a cloud of smoke. "Pushkin, Tatiana – all I grew up with. I know the whole poem off by heart. The character I'm going to project is . . ." She mumbles her observations in Russian and then tries again to express herself in a language that often eludes her. "It is difficult to know and to understand, really because I know Pushkin so deep, and I'm too much Russian for Westerners perhaps to understand."
She won't elaborate on her passion for Pushkin – she appears shy and uncomfortable lending words to what she simply describes as something that's "in my blood." It's enough for her that Pushkin's poem thrills her – poetry, she claims, is her most important source of inspiration. "I think ballet is so connected to poetry, more than any art, except modern ballet – there's no connection to poetry; it's physique."
Poetry shapes her performance by informing her how she's to play a role, execute a move. Makarova says that, during the scene in which Tatiana writes a letter to Onegin, she actually scrawls a verse taken at random from Pushkin's poem. "It depends on what part of the poem is inspiring me that evening." Her story is confirmed by her manager who says that she has collected these parts of Pushkin's poem from all the Onegins Makarova has ever done.
While deeply attached to her Russian culture, Makarova claims she is apolitical and hesitant to speak of Soviet politics – "I don't think I am intelligent enough to." Yet Makarova is not as ignorant of Soviet government affairs as she lets on. Born in Leningrad in 1940, she abided by the Kremlin's rules until she defected to the West in 1970 when her company, the Kirov Ballet, was touring London, England. Today, she maintains that her defection was less a political gesture than a move to advance her career. But it was a political gesture in that it showed her disapproval of a government that she says restricts the artist by dictating what can and cannot be done in the name of art. "Art is abstract – they (governments) should leave it alone. Same in Russia. They should leave the artists alone. How can the artists grow if dictated politically what to do?"
Still, there's no perfect system and Makarova is just as capable of criticizing the West. "Here, there's too much freedom – a lack of direction, restriction, whatever you call it." To illustrate what she's saying, she recounts a recent encounter she and her 7-year old son, Andrei, had with a painter in New York's Central Park. Her son, she says, is showing signs of being a good artist and she asked the painter's opinion of art schools in America. Sadly, he confirmed her own beliefs. "He said the schools here are not good; they teach you no education. Each one has a different theory. The academies, they don't even teach you how to draw. It is like somebody saying to me, 'Go on stage without doing barre.' Impossible So, I thought maybe to send my son to Europe. There, a more serious attitude. Because, he has to learn the classics first, like I did. First, I learned battement tendu, then I can go and do modern ballet, not the other way round."
The Americanization of her son frightens her. Though she loves him fiercely, she admits that "he's kind of not easy child." She says that he places many demands on her and wants to be with her as much as possible, which is difficult because as a "freelance" dancer (Makarova is not associated with any one company), she must scour the world in search of repertoires she can perform. "He (Andrei) has mixed feelings about my career. He wants me to be with him, but at the same time he's ambitious that I never give up – he likes my fame. For instance, we went on vacation in September to Laguna Beach and he said, 'Mom] Let's go the beach]' And I said, 'I have to exercise now and if I don't do it, I won't be the best.' He sat down, watched TV and waited."
Being her best has been Markarova's lifetime goal and, though she is one of the world's greatest ballerinas, she is still plagued by self- doubt. She says she finds performing to be something that goes against her nature. "The reason I perform is to get over my fear . . . my fear that I am not able to do my best." Now that she's 45, she knows her years on the stage are numbered. She won't say when she'll retire, but hints that this may be her last year en pointe.
"I will never make a last ballet and will never announce when I might stop, I will remain an enigma," she says, bowing her aristocratic Russian head with finality.
Search