The Understated Anthony Dowell Revisits A Month in the Country
Posted by Deirdre | Filed under Blog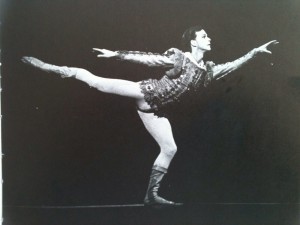 The National Ballet of Canada will perform Sir Frederick Ashton's A Month in the Country in Toronto this week (February. 26 to March 2), nearly 20 years after first acquiring it from the Royal Ballet as a 25th anniversary gift for then leading ballerina now company artistic director Karen Kain. At the time, I met up with Anthony Dowell during a visit to to Toronto to stage the production he danced while a member of the Royal Ballet. Here is that lovely, lively conversation, first published in The Globe and Mail in 1995. I think it still reads well, serving as a reminder of how great a work A Month in the Country is, and how great the dancers who have performed it.
ANTHONY Dowell steps gingerly into a room, smelling of Issey Miyake eau de toilette and brandishing a pinkie ring of diamonds, rubies and sapphires. "I call it my red, white and blue," he says, while admiring how the late afternoon sun makes the jewels sparkle and shine.
Well, you might think, here's a guy with a lot of flash. But in this case looks are deceiving. This is the dancer who built an international career on an ability to appear understated even in the most technically complex of roles. He's also the one who gave rival Rudolf Nureyev some reason to worry. Where the Russian upstart was an extrovert who put tire marks on the stages of the world, the reserved Englishman upheld nobility of line as the mark of the true ballet star. Described in the history books as the finest premier danseur produced so far by Britain's Royal Ballet system, Dowell defined the cool at the centre of classical dance, playing a sort of Apollo in contradistinction to Nureyev's Dionysius.
"I never wanted to be a classical dancer," the 52-year old artist confessed during a recent interview in Toronto. "All I ever wanted was to be on the stage. I was actually a closet tap dancer. I adored Broadway musicals. But I had a facility for ballet – a good body, long limbs, musicality and all that. My teachers persuaded my parents to send me to the Royal Ballet School and I just stayed there and sort of flourished."
There's a sigh in the presentation of these biographical details, as though Dowell is miffed at not having had a chance to have known life as a Broadway gypsy.
"Oh. I would never say that I regretted becoming a ballet dancer," he hastily added. "Ballet is such a rarefied art form. So few have what it takes to even make it. But I was lucky. I was good. And I think that if you are good in ballet you can do other things."
Dowell has used ballet to do a great many other things. Since retiring from the stage in the mid-1980s, he has gone on to direct the Royal Ballet company, which remains Great Britain's most prestigious ballet corps. He has also staged revivals of some of the dance classics in which he once made his name.
Chief among them is Sir Frederick Ashton's 1976 ballet, A Month in the Country. Inspired by the 1872 Turgenev play of the same name, the one-act dance drama tells the story of a love triangle involving Natalia Petrovna, her ward Vera, and a newly arrived tutor, Beliaev. Dowell originated the role of Beliaev; Ashton hand-picked him. His partner at the time was Canadian dancer Lynn Seymour. At the age of 37, she first danced Natalia Petrovna, a role rare in the classical repertoire because it was conceived especially for the seasoned dancer.
A contemporary dance classic, A Month in the Country is especially valued by female dancers who want to exercise their acting skills. The role stresses nuanced expression over bravura performance and as such is perfectly suited to the mature ballerina. The work is a jealously guarded treasure that until now has been performed only by members of the Royal Ballet. But after much cajoling by National Ballet of Canada artistic director Reid Anderson, who wanted the ballet as a 25th anniversary gift for principal dancer Karen Kain, Dowell has agreed to let Canada's largest classical company perform it for themselves.
Purchased for the company by Toronto patrons Sandra and Jim Pitblado for $300,000, A Month in the Country will make its Toronto debut at O'Keefe Centre tomorrow with Kain, 44, dancing the female lead.
"The ballet is really a gift for any ballerina, especially a ballerina at the height of her powers. It's one of the reasons I agreed to bring the ballet here. The ballet is wonderful for Karen (Kain) at this point in her career," Dowell said. "It's a challenging work. The dancers here will have no problem dancing it. But they will have to adapt to its style, which is very naturalistic and not what might be called balletic at all."
The naturalistic approach to ballet is, or rather was, Dowell's speciality. He rose in the Royal Ballet in the early 1960s, at exactly the same time as Nureyev was dancing with the company as a guest artist. Dowell, Nureyev's stylistic opposite, was also gaining recognition as a result of his memorable partnership with the Royal's Antoinette Sibley.
Together they created lead roles in Ashton's The Dream (1964) and the Sir Kenneth MacMillan ballets Manon (1974) and Anastasia (1971). Like Nureyev and Margot Fonteyn, Dowell and Sibley were opposites. An exceptional stylist, she provided the heat needed to warm up Dowell's classical composure.
Celebrated as the exemplar of the British classical style because of his exceptional technique, natural poise and elegant dancing, Dowell was criticized early in his career for not having any sizzle.
"I was maybe too reserved and too removed. People used to say of me, 'Oh, what a lovely dancer. But pity he can't act.'"
"But however deeply trained I was, my teachers never killed off individuality," Dowell added.
"They told me I mustn't copy anyone else and I must always strive to find my own way. And that's what I did."
Dowell did it his way without, he said, developing an overweening sense of self.
"I didn't have an ego. I probably succeeded as a result of that. I never got in the way."
Search