Christmas in Paris
Posted by Deirdre | Filed under Blog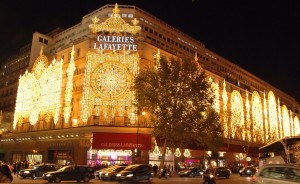 Earlier this month, I stood in front of the dressed windows of Galeries Lafayette and Au Printemps, two of the oldest department stores in Paris, my two small children by my side. I was looking for Christmas and thought that the festive window displays, an annual Paris tradition, would satisfy my growing hunger for some holiday cheer.
Not that the rest of Paris wasn't inspiring a sense of celebration. Nightly, the Eiffel Tower sparkled with brilliant diamante lights, while overhead, on the Place Vendôme, illuminations in the shape of chandeliers brightened the path for bejewelled shoppers scurrying to buy the latest Parisian fashion. But being so far from home, and despite the thrill of being back in Paris, I was nostalgic for a Christmas more familiar to me, one dusted with snow and smelling of nutmeg. The endless December rains and the rancid odours of the Métro seemed all wrong, given the time of year.
No matter how far we travel, it seems we cannot escape the comforts of our own traditions. I hadn't thought I had any real Christmas ones until this trip. I had many times, since the age of 19, come to this city to escape what was familiar to me – my broken childhood home, the father who abandoned me, the mother who yelled at me for wrapping my Christmas gifts with two left hands. Never more for me the sticky emotional trap of tape and metallic paper. But with age I realized that with each trip away I seemed instead to be journeying within myself, discovering feelings I thought I never had or, at least, had long abandoned.
Which is how I found myself, on this trip, in the middle of the Place de la Concorde, looking at an obelisk, but thinking instead of the Christmas tree at Toronto's Nathan Phillips Square. My memory was of the Santa Claus Parade, winding its way down University Avenue, before stopping at what used to Eaton's, the Canadian department store with the most enchanting Christmas windows in the world, or so I thought then. These were windows that showed the world as tiny and perfect, where families ate together and sang together, dream lives preserved behind glass. The best was the window on Queen Street devoted to Santa's toyshop. There, mechanical bears clapped cymbals, dolls blew kisses and silvery electric trains went round and round on ebony tracks while small, buttery, battery-operated puppies yapped with excitement. I hadn't thought of those things in years. But Paris was conjuring them up. I guessed it was because I knew I couldn't find them here, in a city that is more interested in indulging the senses than feeding sentimentality.
Santa doesn't live in Paris. He lives in North America, where he has been ensconced in malls since early November, quietly luring in parents who will spend $20 to get his picture with their kid (or their pet, or both) on his lap. Paris is a city liberated from prescribed iconography about Christmas. In this capital of art, depictions of Joseph, Mary and baby Jesus are omnipresent 365 days a year. But what about the French? How did they deliver on the annual Christmas fantasy? Very well, I discovered.
Paris is a city of boutiques and a city in love with visual design, so there is no shortage of beautiful windows to look at wherever you go. Walking back to my hotel one night, after a long day of sightseeing, my tired eyes received a surprise bolt of colour in the window of a toy store on the rue du Commerce where large pneumatic bears, in various shades of the rainbow, were frolicking amid a flurry of fake snow. Another day, in the window of haute grocery store Fauchon, near the Madeleine, I saw jewel-coloured Christmas pastries as brilliant as any stained-glass window.
But I was most bedazzled, at the Christmas windows of Les Grands Magasins – the connected but rival Galeries Lafayette and Au Printemps department stores – presenting onto boulevard Haussmann, directly behind the ornately sculpted Palais Garnier on the nearby Place de l'Opéra. The opera house, with its Chagall ceiling and eight-ton crystal chandelier, was where you paid dearly for a ticket to see a choreographed show. But there, outside these belle époque temples of commerce, the spectacle was free, but no less impressive. The windows don't showcase toyshops. No families eating plum puddings, either. Beyond a scene showcasing a sultry-looking mannequin swathed in fur and a pack of ferocious animals, themselves brushed and styled (but at a taxidermist – not even Christmas can escape the Parisians' love of irony), the windows depict a winter wonderland made up of globes, glitter, mirrors and simulated white stuff that carry out the Printemps' Nordic Christmas theme with aplomb. Designed by artists possessed with that distinctly Parisian flair for work that combines, in equal measure, the whimsical, the poetic and the absurd, the windows were light-years from anything that spoke to the ye-olde-yuletide windows of my youth.
In true Paris fashion, they were up-to-the-minute creations, propelled as much by technical know-how as by imagination. Anyone looking for a trip down memory lane would be disappointed – but also delighted by the sudden shift in point of view. As I found myself enthralled by the 190 animated characters, ranging from saxophone-playing panda bears and choirs of snowy owls to a herd of guffawing reindeer and a troupe of tap-dancing powder puffs, I suddenly found myself warming to a whole new picture of Christmas. The catalyst was as much the scene happening in front of the windows as inside them. My children. They were running with delight from window to window, laughing at the polar bears swinging on the zany light fixtures during an animal's Christmas party, or gazing with wonder at the winged baby dolls softly sailing around a snowy landscapes on bees' wings. Wooden ramps allowed little ones to press their noses up against the glass, elevating children to a vaulted status above the crowd. I had brought my children to Paris to show them the sights and to share with them the deepest parts of myself, my loves, my fears, my ambitions, all symbolized by this mighty city upon the Seine. But instead they were showing me how to see Paris in a new light.
Search