Ballerina Book Event
Posted by Deirdre | Filed under Blog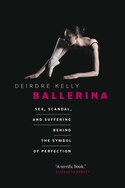 In Conversation:
Deirdre Kelly
About this event:
Join Ronda Nychka, former National Ballet ballerina, in conversation with Deirdre Kelly, the Globe & Mail's award-winning dance critic and Style reporter, about the often brutal backstage experience of the ballerina.
Deirdre Kelly will be signing her new book, Ballerina: Sex, Scandal and Suffering behind the Symbol of Perfection, following the talk and Q&A.
Date and Location:
Indigo Manulife Centre, Toronto, ON
Wednesday, April 17th
7:00 PM
Comments (0) | April 1st, 2013
Comments are closed.