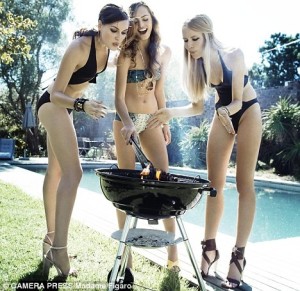 I am a girl who wants a grill. I thought I was in the minority. I mean, grills are for guys, right? All that smoke and bleeding meat. It's what men have done since time immemorial, grill the steaks. But the feminist in me has, ever since the spring thaw, been itching to get close to the fire. What's hotter than that?
I'm not alone. Father's Day might be around the corner – the biggest grill-selling day of the calendar, with more than 20 per cent of units sold, says Weber grilling expert Naz Cavallaro – "but guess who's buying? The women!"
Women are increasingly embracing gas and propane grills, according to David Coulson, national advertising manager with Napoleon Gourmet Grills in Barrie, Ont., with an estimated 40 per cent of Canadian "barbecuties" – a large number of them in Toronto – now encroaching on that final frontier of testosterone.
But barbecues are not for the faint-hearted. They're big and smelly and, shortly after you start using them, dirty. Also, which way exactly do you turn the spigot on the gas tank? What if you turn it the wrong way and there's a gas leak? Lid on? Lid off? What if you blow yourself up? The ignition buttons always seem to be broken. What if you burn yourself trying to light it through the tiny hole in the side?
"The newer grills are a lot more user-friendly than before," Mr. Coulson says. "Most of them now have electronic ignition, which, basically … is just like starting up your indoor range. It has eliminated the fear of jumping flames, the experience many women had from the old-style grills."
As a first-time griller, I needed an expert to show me how to tell a cooking grid from a smoker box, a propane cylinder from a burner valve. Back to Mr. Cavallaro, a.k.a. BBQ Naz, the owner of nine grills proudly on display at his Brooklin, Ont., home. He's a guy's guy. When I ask him how long it takes to assemble a barbecue, he answers, "Three or four beers."
But he's also egalitarian. Women "read the manual, unlike most men, who don't." We are at Sign of the Skier on Yonge Street, where some Weber grills are on display, from a $129 old-school charcoal-and-starter-fluid jobbie (back in style, says Mr. Cavallaro, because it's retro) to the $2,400 stainless-steel Summit with its six burners, including a side heater for pasta, rice, veggies – "I even use it to make espresso or melt chocolate for desserts," Mr. Cavallaro says. "If you can eat it, you can cook it on a grill. That's my motto."
He tells me to open the lid. "Buying a grill is like buying a car," he explains. "You gotta look inside. You gotta feel the construction. It's gotta feel heavy, well made, not like one of those cheap offshore numbers that you will be replacing by the end of the summer."
He hands me a cooking grid, the inner component of a grill that, when positioned at various vertical levels, provides an enlarged cooking area. I almost drop it. I guess if I am going to fan the flames on my summer this year, I had better develop some muscle.
But Mr. Cavallaro says nothing. All focus is now on the burners. "Take them apart," he urges. "See how they are built. Notice their size." Size, when you're barbecuing, does matter. You need a large area to do your steaks and your ribs and even your turkeys, if you are a diehard and willing to grill all year long.
I'm stoked. I am ready to go into my backyard and barbecue some ribs.
"The men might think they're in control here, like it's their turf or something," Mr. Cavallaro says, "but hardly do you see a guy buying a grill without the wife making the final decision.
"And she's not just paying, she's cooking the meat. It's a mini-revolution."
Tex McLeod, former executive director of the Hearth
Patio and Barbecue Association, believes that this charcoal-broiled battle of the sexes has erupted, like many other gender wars, because "it's about women wanting to reclaim what the men have staked as their territory, and perhaps unfairly so."
Mr. McLeod's theory is that guys and grills have such a long history because barbecuing has taken them out of the kitchen "and into the outdoors, where they are free of the rigours of the domestic kingdom dominated by women."
*****
Getting the bugs out
It's spring. The sun shines, and you decide to set up the old 'cue. You rattle around, checking the lines and maybe replacing the propane tank and then, ugh! Out come a hundred baby spiderlings. "Spiders do make their way into barbecue lines," says Ray Goral, barbecue expert from Home Depot Canada.
"People think it's in the propane line, but they actually hide in the burner valves.
"There's burner pipe cleaners that customers can buy … If the valves aren't cleared out, it can stop propane from flowing through to the grill."
*****
Time to retrofit
There's a dirty side to barbecuing – the grime. Every time you grill, it accumulates: dripping into the burners, coating the grids with protein after the sizzle, encrusting them with sauces and oils and ash. Then, there's the after-winter rust.
After a few years, many owners just throw their barbecues out and buy new. But there are services in town that can save you.
One such service is Barbeque Pro. The roving cleaning and renewal business takes teams of guys (women never want the job) into city backyards to battle what owner Charles Munro calls "the grimiest, ugliest, unfriendliest barbecues known to man."
Remember that built-up carbons are not just ugly, they're carcinogenic. "No one continually cooks from a dirty pan," Mr. Munro says. Barbecues are cleaned and vacuumed, hosed down and, often, rebuilt.
"We don't just show up with wire brushes," says Mr. Munro. "We use electric grinders, electric scrapers and sanders to take your barbecue right back as close as we can to its original finish."
Like what you are reading? Follow Me on Twitter: @Deirdre_Kelly